Entertainment
Closing Date For SHS School Placement And Enrollment 2019
In a an official release dated 26th November 2019 and signed by the Deputy-Director General of the Ghana Education Service, Dr. Kwabena Bempah Tandoh, the GES announces to the general public that the 2019 placement of students into Senior High Schools closes on Friday, 29th November, 2019 while Student enrollment into the Senior High Schools ends on Thursday, 5th December 2019.
This release was made known on the official facebook page of the GES with the statement:
Placement closes officially on friday 29th November 2019.

Enrolment ends on Thursday 5th December 2019.

Take note….
Here Is The Official Release
Management of Ghana Education Service (GES) announces for the information of students, parents and the general public that the 2019 placement of students into Senior High Schools closses on Friday, 29th November, 2019.
Student enrollment ends on Thursday, 5th December 2019.
All heads of Second Cycle Institutions, pat=rents, guardians, and other stakeholders are to take note.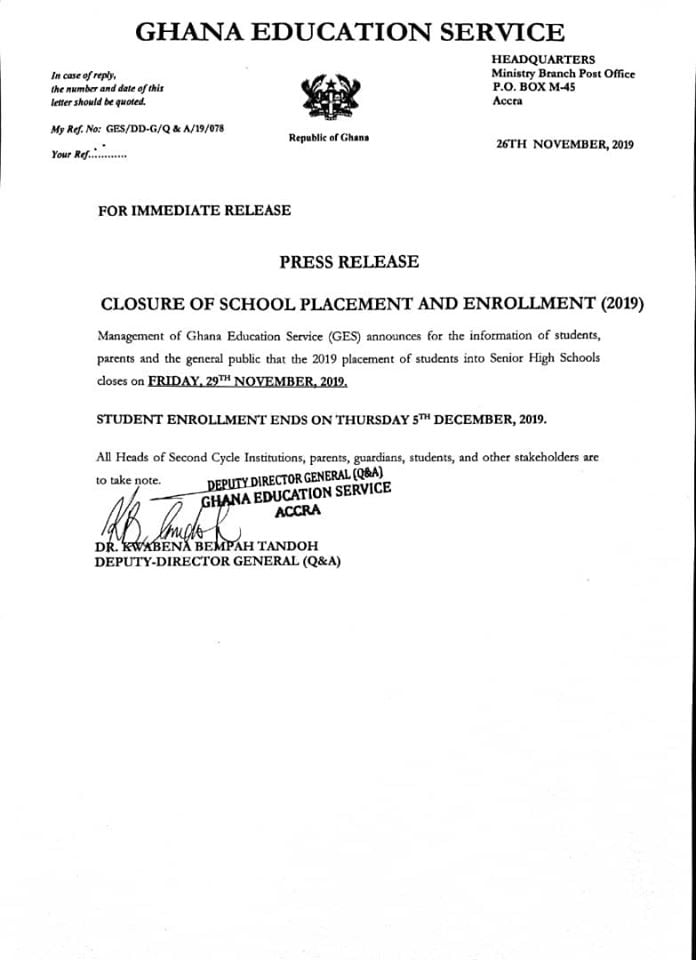 SHS School Placement Statistics
Out of a total of 517,331 candidates out of which 263,602 were males and 253,729 were females, sat for the BECE examination.
The candidates were from a total of 16,871 schools and the examination was administered at 1,880 centres.
A total of 122,706 candidates qualified to enter the senior high schools, technical and vocational institutions but were not placed, later had the chance to do self-placement.
By that system, a candidate who missed out on the placement under the Computerised School Selections Placement System (CSSPS) was required to go to the self-placement platform on the cssps.gov.gh or cssps.org to select his or her preferred school from a list of schools provided.
A total of 490,000 candidates were expected to be placed, but 473,728 candidates qualified to be placed.
The number was reduced to 473,728 because some of the candidates, even though they scored good grades, had grade nine in either Mathematics or English Language.
The affected candidate are required to go back and rewrite those subjects in order to qualify to be placed into senior high schools.
Read Also

BECE For Private Candidates Registration Procedures And Manual 2019 / 2020
Access the complete registration manual and procedures here. Read More.

BECE School Placement and How To Do Self Placement 2019/2020
Understanding the CSSPS and how to check BECE school placement  and do the self placement.

BECE / SHS School Placement Approved E-Voucher Vendors 2019/2020
All BECE / SHS placement e-voucher vendors across ghana.
BECE / SHS Placement And E-Voucher Purchase 2019 / 2020 New Directives
Newest instructions on how to Buy E-voucher and do the BECE /SHS Placement and Self Placement. For those having challenges.