Earlier reports circulated that Ghana's dancehall King Shatta Wale has been featured on Beyonce 's album for the remake of the Lion King movie.
But the full detail had not been out.
Detail Of How Shatta Wale Got Featured By Beyonce
The story of how the collaboration came about has been told by Chris Koney, a members of Shatta Wale's management team.
Chris Koney disclosed what transpired in the chat with two members of Beyoncé 's entertainment company Parkwood Entertainment.
He said he had the chat with Theresah and Kwasi of Parkwood Entertainment.
He said they told him the dancehall king is exceptional and talented with this statement and for that reason he is been featured:
"He is a real champion and his verse is killer".
The PRO of Shatta Wale,  finally disclosed how the move came about in facebook post.
He stated:
"I remember the day I had a chat with Theresa and Kwasi of Parkwood Entertainment, an American management and entertainment company founded by American singer Beyoncé about King Shatta Wale being on The Lion King. "He is a real champion and his verse is killer" – that was the response I got from them after the song was sent.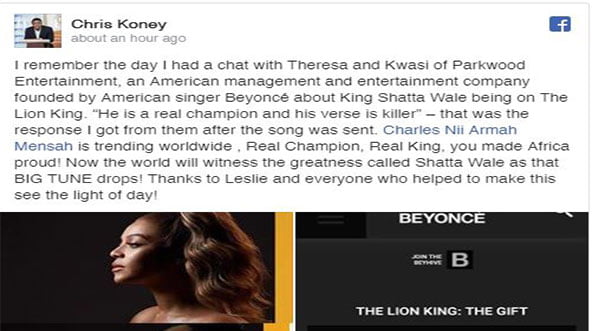 Shatta Wale becomes the only Ghanaian artiste to be featured by Beyoncé.
Beyoncé made two albums featuring several international artistes for the Lion King movie. The albums are called "Spirit" and The "Gift".
It is on the Gift album that the dancehall king Shatta Wale was featured. He was featured the song titled "Already".
The album and its songs is said to be released on Friday, July 19, 2019.
The album also features other African artists including Burna Boy, Savage, Mr Eaz, Tiwa , i, Tekno, and Yemi Alade.