Here is the ECG Dumsor Timetable for the month. As part of projects to improve power supply reliability and system voltages, the Ghana Grid Company (GRIDCO) in collaboration with the Electricity Company of Ghana will undertake interruptions in power supply to facilitate the work of contractors at Accra.
This is to allow the Ghana Grid Company Limited (GRIDCo) to undertake "planned works" within the Achimota – Accra Central Lines. This exercise will require a complete shutdown of the about 330kv line thereby affecting power supply reliability to Accra.
Kindly share with the Whatsapp button below this page. 
Related Posts
About ECG Dumsor Timetable
The Electricity Company of Ghana wishes to inform its cherished customers and the general public that, the tie-in works will take eight (8) days from October 5th to December 5th and will affect power supply to some customers in parts of Accra.
Accra will experience another phase of dumsor from October 5 to December 5. Thus Parts of Accra to experience 'dumsor' for two months
Other needed interruptions in power supply to enable contractors complete the different intervention projects, will be communicated in due course.
While calling on customers to bear the inconvenience with us, the projects will be completed on time.
ECG Dumsor Timetable
The affected groups and outage schedule are as follows:
Group A – Adabraka Old Timers, Mamprobi, Chorkor, Ageege, Lartebiokorshie, Valco Trust, Teachers Hall, Airtel Tigo Office, GRI Reinsurance, Lartebiokorshie, Zabon Zongo, Pepsi Cola, Rubber Factory, Modern Automobile Service, Railways, Highways, State Housing Insurance .
Group B – Appolo Theatre, Asylum Down, Adabraka Market, Korle Gonno, Sukura, Mamprobi PolyClinic, JamesTown, Mataheko, Trust Towers, Artlantic Computers, Merton School, Salaga Market, Sampe, Korle Gonno, James Town, Japan Motors, Presby Press, Alioma, Abuja Police, Accra Brewery Limited.
Group C – includes Central Police Station, Cocobod, Kingsway, Abossey Okai, Chorkor, Appiah Danquah, Graphic Press House, SSNIT, Geological Survey, Cedi House, Anglogold Ashanti, Appia Danqua, Datus, Kamara, Chorkor, Ghamot, Wire Weaving, Zenith Bank, Accra Brewery, Asumdwe Plastic
Time schedule for the above categories are as shown in the image below. Zoom the image below to see it well.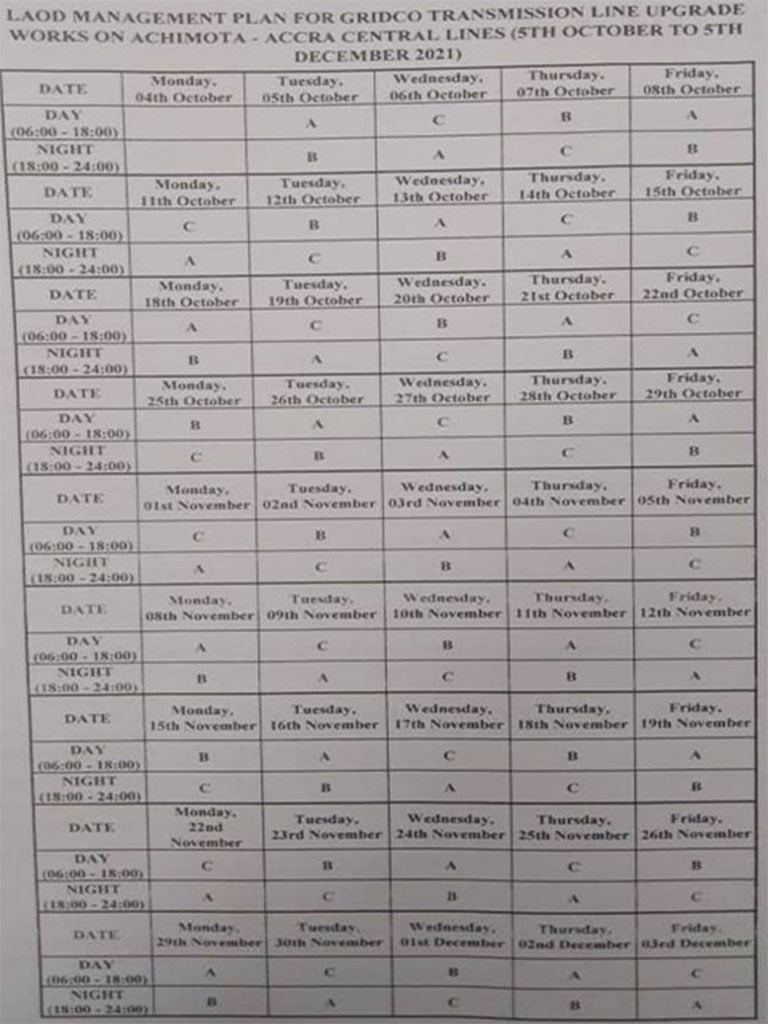 Related Searches
ECG Dumsor Timetable October, November December 2021/2022