Ay3 late hitmaker Pappy Kojo seems to be inviting trouble for himself as he alleges that Ashanti men cheats in relationships.
As a tribal stereotype, people use to say that Fante men and Ashanti men cheat a lot in relationships.
But the the "Taadi Vandam" seeks to clear his tribe from such stereotypes as he makes it clear in his tweet.
However this might not go down well with fellow Ashanti's. This is just a joke and they will just take it lightly.
In a a tweet at around 2:00 pm today Sunday, July 14. He stated he made this statement
Fante men dont cheat, Ashanti men do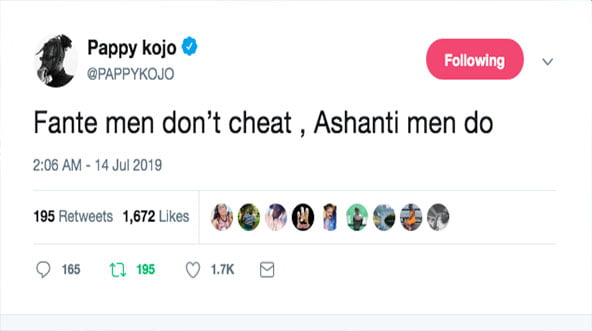 Read also: New Beef Alert – Efia Odo vs Guru .