Controversial counselor, Cyril George Carstenson Lutterodt has turned his unusual bashing of celebs to our Ayigbe Toffee Fella Makafui.
On a recent interview on Roselyn's breakfast show on Tv Africa, the counselor made some outrageous revelations yet again.
I guess it is the turn of Fella Makafui to be bashed by the controversial counselor.
These are excepts from the interview
Consellor Lutterodt
"anybody who introduces you as their girlfriend or boyfriend has disrespected you"

"Some years ago medical took Debie on stage as a girlfriend, this year who did he take on stage" he quized the host

"An Ewe girl Doing this to the public, Ewes don't do this"
Presenter
"Why dont Ewes Do this, she is a human being just like everybody else"
Consellor Lutterodt
"No no no you see, we have human beings in human beings"
"The most faithful people you can find in relationships are ewes"
"That is why when you break up with an ewe girl and she says "OK" you are even afraid"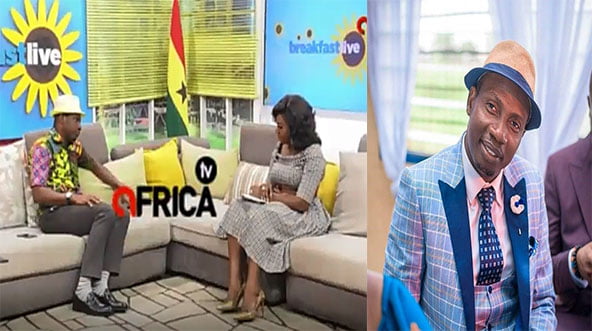 About Carstensen Lutterodt
Carstensen Lutterodt, popularly known as Counselor Lutterodt, is a controversial and mostly outrageous Ghanaian marriage counselor. His utterances always causes outrage to the extent that it is almost intentional on his side. He is from Osu in the Greater Accra region of Ghana.
Lutterodt is a radio and TV relationship counselor and a Reverend Minister by profession. TV shows also love to have him on their shows since his utterances makes their programs trend.
Lutterodt studied at the University of Ghana Staff Village School at Legon. He then continued at the City of Ghana Academy.
The counselor pursued his first degree in Electrical Engineering at Accra Polytechnic. He attained his master's degree at the Southern Medical University, China where he trained as a Biomedical Clinical Technician.
He is married to Ms. Abigail Naa Yemoley with two children.
He is known for his tribal and chauvinistic utterances on mostly Ghanaian celebrities. An instance is his 2017 utterance that "Ashanti people masturbate the most among the ethnic groups in Ghana" and "Ashantis are the laziest people in bed" .
His most famous quotes are:
"If you are a woman and you date one man for more than two weeks then there is something wrong with you".

"Dating is not a relationship".

"When a National Service Person proposes to marry a woman, that lady should report him to the nearest police station." .

"Never allow a poor man to marry you. A poor man's marriage will kill you early.
The most recent of such utterances is that "Fella Makafui a Ghanaian actress is a disgrace to her tribe".
Lutterodt is mostly criticized by fellow counselors who disown his utterances and insist he has no license to practice as a counselor. A statement he has always challenged.