In a release dated 3rd March 2020, the Ghana Education Service (GES) is hereby recruiting for auxiliary personnel namely: Administrators, Accountants, Laborers, Watchmen, Cooks, Pantry, Artisans (Electricians, Carpenters, Masons, Plumbers), Cleaners, Clerks, Typist and Store Keeper.
You can join our Whatsapp Group For Government (Public Sector) Job Vacancies Alert. Here is the group: >>> Government Job Vacancies Alert Whatsapp Group  <<<
Recommended
The release reads as below :
Applications are hereby invited from interested and qualified persons into the Ghana Education Service as auxiliary personnel.
Enlisted Recruitment Positions
Administrators
Accountants
Labourers
Watchmen
Cooks
Pantry
Artisans (Electricians, Carpenters, Masons, Plumbers)
Cleaners
Clerks
Typist
Store Keeper
Mode Of Application
Interested persons are to go for a Non- Teaching Staff Recruitment Form from the account office of the Hohoe Education Service in the Volta Region.  Applications are to be addressed to the Director General and submitted through the Municipal and regional directors.
Note that this recruitment is for the Hohoe Ghana Education Office.
Required Documents
Attachments to the application should include:
Certified Certificates
Non- Teaching Staff Recruitment Form (available at the account office)
4 passport Size photographs
Reccomendation letters for those currently doing voluntary work with GES
Photocopy of any national ID card
Applications should be in four sets and should be submitted to the regional director of education, Hohoe for further processing and submission to the regional director.
Read Also >>> GES Non Teaching Staff Recruitment Application Procedures <<<
Deadline For Submission Of Application
Closing Date for submission of all application letters and its required attachments is Tuesday, 17th March 2020.
Here Is A Copy Of The Letter
Should you need any clarifications read the release below or contact the Hohoe Education Office.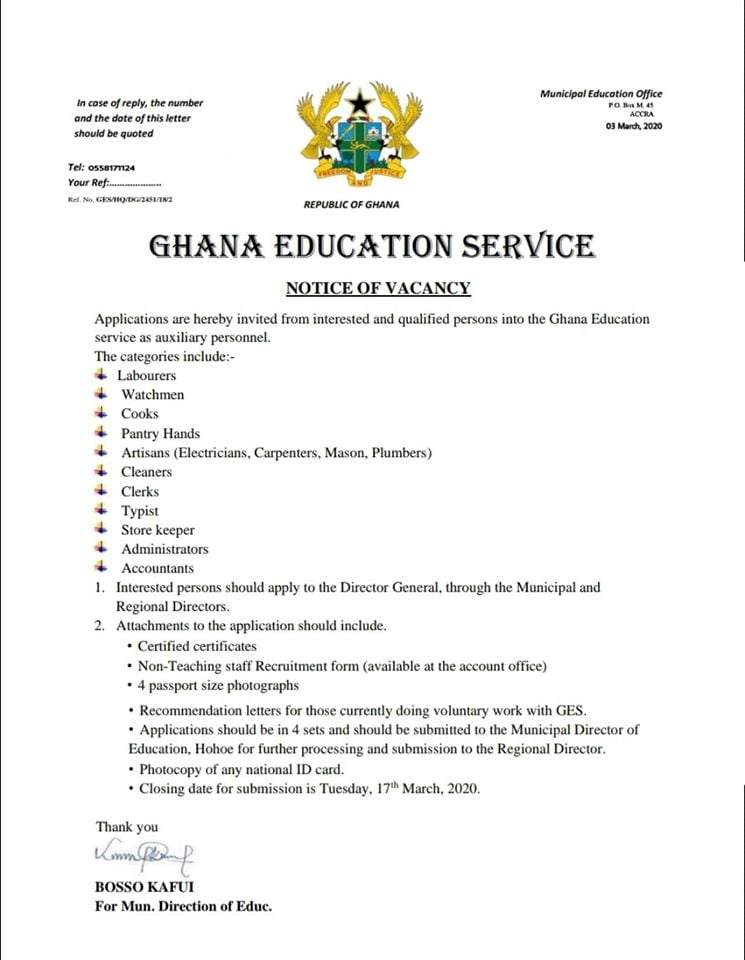 .
Note that we cannot prove the authenticity of this document, similar document for same municipality circulated last year. It has been circulating on whatsapp for days now.
Kindly share the article with those that might need it. There is a whatsapp share button below the article.
If You Have Any Enquiries, Let Us Know In The Comment Section
You can join our Whatsapp Group For Government (Public Sector) Job Vacancies Alert. Here is the group: >>> Government Job Vacancies Alert Whatsapp Group  <<<
You can also join our Telegram forum to make all your enquiries known. Here is the forum: >>> Job Vacancies Announcement And Discussion Forum  <<<
Read Also
GES Recruitment 2019/2020 New Application Procedures
GES Recruitment 2019/2020 New Application Procedures. Read more
Online Ghana Passport Application In An Hour

Easiest and Quickest online Ghana passport application .Read More