The Ghana Education Service has begun the compilation of details of educate Ghana NABCO trainees to begin the permanent recruitment of such personnel. This is as confirmed by the president of the NABTAG in a release provided below. And a release to the Jaman South Municipal education service, also provided below.
All NABCO Educate Ghana CPTP trainees are therefore expected to submit their details to the Education directorate at their various districts/Regions for further processing.
The Education directorate is therefore requesting all CPTP Educate Ghana trainees to submit the following details  to begin the process.
Kindly share with the whatsapp share button below this article. If you have any enquiries, let us know in the comment section 
You can join our Whatsapp Group For Government (Public Sector) Job Vacancies Alert. Here is the group: >>> Government Job Vacancies Alert Whatsapp Group  <<<
Recommended
GES Recruitment – NABCo Permanent Jobs
How To Apply For GES Recruitment – NABCo Permanent Jobs
DETAILS REQUIRED OF EDUCATE GHANA CPTP TRAINEES FOR GES RECRUITMENT
SISOs are to contact Head Teachers in their respective Circuits to get details of NABCO teachers (Educate Ghana CPTP Trainees) in their schools.
Their information should be forwarded to SISOs' platform for onward submission. This is purely MIP-base exercise.
All CPTP Trainees under Educate Ghana Module should contact their respective headmaster/headmistress/SISOs for further directives on this as soon as possible.
Please treat this as urgent!
All other modules on the CPTP should patiently wait for their turn when due.
This is to ensure no one under the said module is left out. Trust the process!!!
More updates shortly!!
Dennis Katakyie
(National President, NABTAG)
GES Recruitment Of NABCo Trainees
Release To Jaman South Municipal Education Service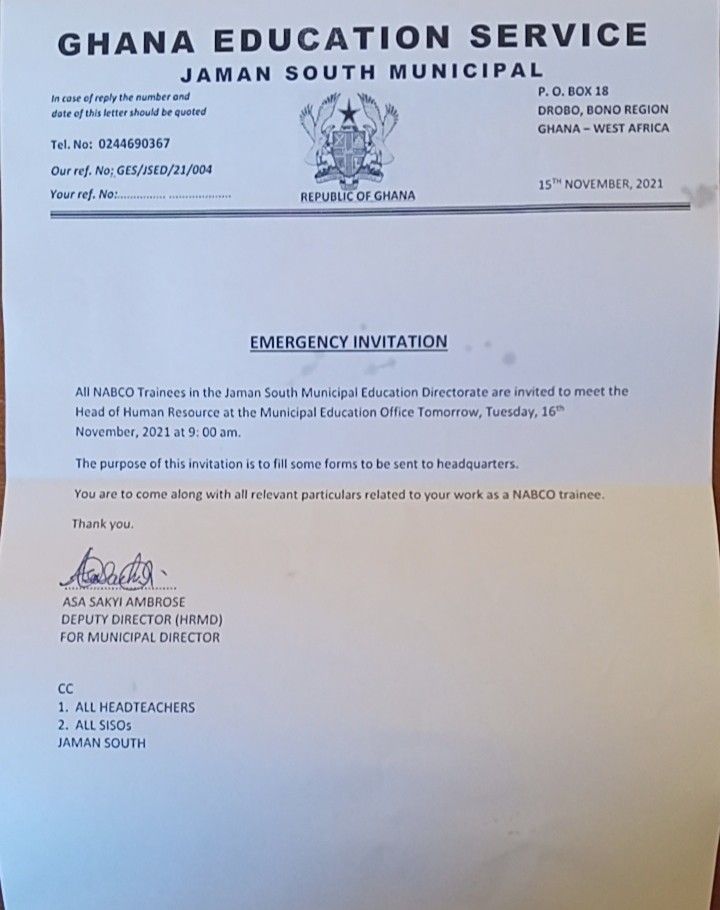 Related Searches
GES NBCO Recruitment 2021/2022/2023/2024, GES Recruitment Portal 2021/2022/2023/2024, GES Recruitment Of Nabco Trainees Date 2021/2022/2023/2024