Entertainment
GES To Post Trained Teachers By End Of November 2019
The Ghana Education Service (GES) has official assured the 2018 graduates of Ghana Education Service (GES) that their postings will be released by the end of November 2019.
In a release dated 22 October, 2019 and signed by the head of public relations of GES, Mr.Cassandra Twum Ampofo gave the assurance with the statement:
The Ghana Education Service (GES) wishes to inform the general public, particularly trained teachers who completed Colleges of Education in 2018; have written and passed the Teacher Licensure Examination, and are completing their National Service, that the processing of their postings is underway.

Eligible candidates who duly applied online will be shortlisted and posting effected by the end of November 2019.

We also wish to state that they will be considerations for University graduates with Basic Education and Early Childhood Certificates who have passed the Licensure Examination and completed National Service as well.

The GES reserves the right to post teachers to where their services are needed. The general public is, therefore, cautioned not to make any payments to persons wh promised to facilitate their posting process.
Here Is The Official Release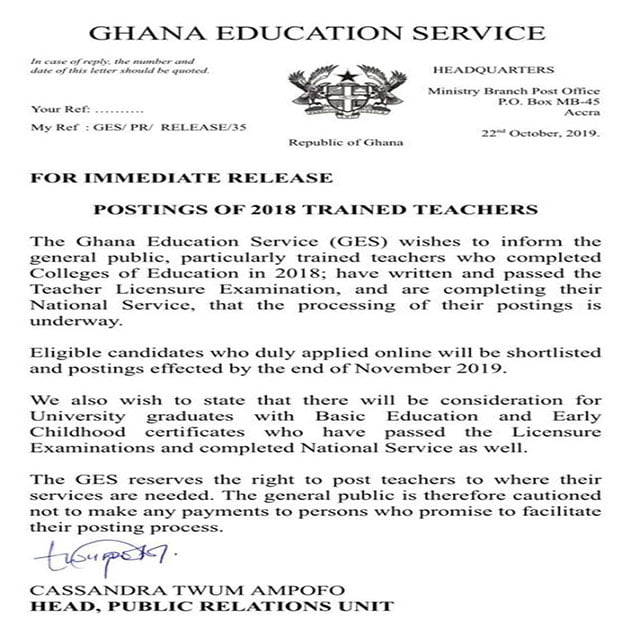 Read Also
Ghana Passport Application Procedures And All Details: Updated 2019/2020

All in one passport application guide. Contains every detail about the the various Ghana passport application processes since its inception. Read More

GES Recruitment 2019/2020 New Application Procedures
Application procedures used for the initial recruitment. Read More.

GES Non Teaching Staff Recruitment Application Procedures 2019
GES Non Teaching Staff Application procedures. Read More.

Ghana National Service Scheme Procedures And All Details 2019 / 2020.
All in one detailed national service procedures guide. Read More.