Here are the Ghana Fire Service Training Date & Centers as sighted in a release by us. The letter addressed to all Regional Fire Officers, Commandants, the Fire Academy and Training School (FATS) and the chairman of the Fire service council, Accra , reads as follows.
Kindly share with the Whatsapp button below your screen. If you have any enqiuiries, let us know in the comment section.
You can join our Whatsapp Group For Government (Public Sector) Job Vacancies Alert. Here is the group: >>> Government Job Vacancies Alert Whatsapp Group  <<<
Recommended
Ghana Fire Service Training Date & Centers
List Of Recruits Scheduled To Report For Training at Fire Academy Training School
Recruits on attachment whose names appear on the list attached herewith, are to report at The Fire Academy and Training School (FATS), James Town – Accra, on Sunday 27th February at 12:00 hours to commence the next stage of their training.
Accordingly, They are to be released with immediate effect to enable them prepare adequately 'o report on the said date.
Each recruit shall pay a development fee of two hundred and fifty Ghana Cedis (ghc250.oo) on the day of reporting.
Accept for strict compliance and acknowledge receipt.
The Official Release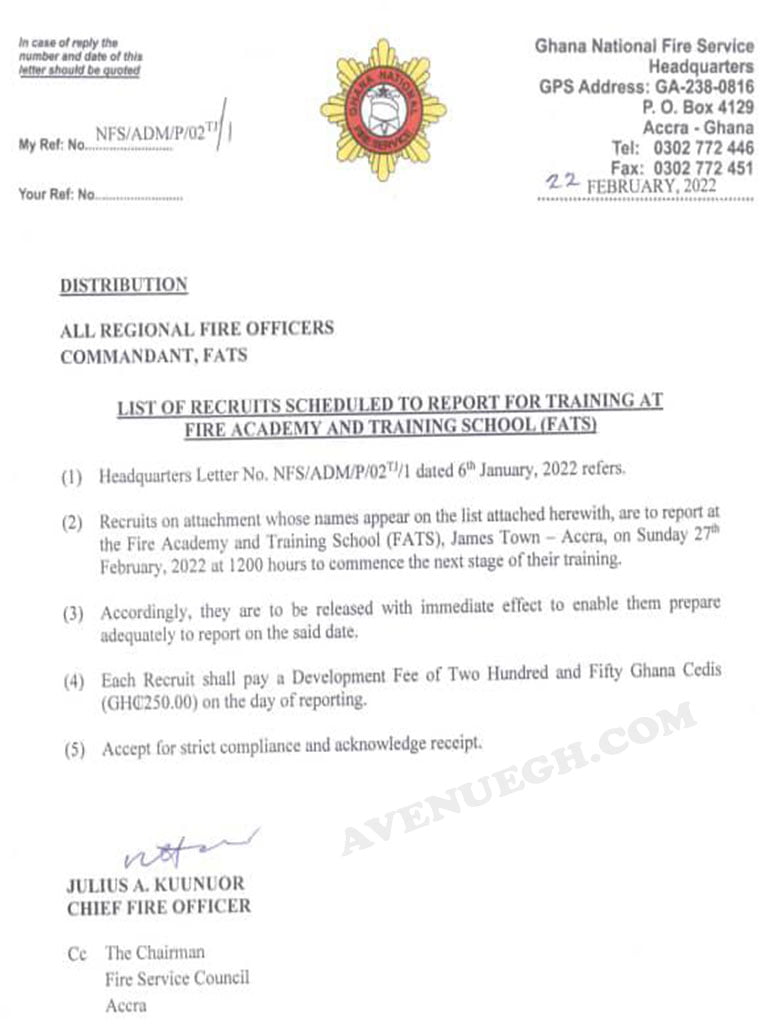 Disclaimer
Note that this post is for educational purpose only, we cant guarantee the authenticity of the release above. As such any payment as stated in the release should only be made at the stated premise and after confirming if such payment is genuine at the premise.
Ghana Fire Service Aptitude Test Exams Questions & Answers
Ghana Fire Service Training Duration
Ghana Fire Service Prospectus
What To Do If You Have Not Received Your Fire Service Appointment Letter To Commence Training
Fire Service Training Allowance
Ghana Fire Service Salary
Related Searches
Fire Service Training 2022/2023/2024, Fire Service Training Date 2022/2023/2024, Fire Service Training Centers 2022/2023/2024, Fire Service Training Venue 2022/2023/2024, GNFS Training 2022/2023/2024, GNFS Training Date 2022/2023/2024, GNFS Training Centers 2022/2023/2024, GNFS Training Venues 2022/2023/2024, Ghana Fire Service Training 2022/2023/2024, Ghana Fire Service Training Date 2022/2023/2024, Ghana Fire Service Aptitude Training Centers 2022/2023/2024, Ghana Fire Service Training Venue 2022/2023/2024