A letter sighted by us indicates the release of Ghana Immigration Service Appointment Letter to applicants who were successful for the medical examination and who are scheduled for Training to finalize the GIS recruitment process.
The letter as sighted by Avenuegh.com is as follows.
Kindly share with the Whatsapp button below this page. If you have any enquiries, let us know in the comment section.
You can join our Whatsapp Group For Government (Public Sector) Job Vacancies Alert. Here is the group: >>> Government Job Vacancies Alert Whatsapp Group  <<<
Recommended
GIS Letter Of Appointment
Following your success in the selection procedure and medical examination recently, I am directed by the comptroller-General to offer you enlistment into the Ghana Immigration Service as a recruit with effect from 10th December.
This offer is subject to evidence of satisfactory vetting and fingerprint certification report. Should it be found that you have been convicted of an offence involving immoral behavior, dishonesty or fraud or have been dismissed from any public service, this offer will be revoked forthwith without prior notice.
You are to report to the Commanding Officer, GIS Training School, Assin Fosu on December, 2021 for a six [6] month Recruit Training. Upon satisfactory completion of the training, you would be appointed to the rank of Assistant Immigration Controller officer Il (AICO Il) or applicable rank based on your educational certificate.
upon appointment to the rank of Alco Il or applicable rank, you shall take the oath of Secrecy and the Immigration oath.
Should it be discovered at any point, before training, during training, appointment probation or after confirmation that you gave, or have given false information presented any false documents, or withheld any relevant information, you may be dismissed Without trial and possibly be prosecuted for the offence.
Whilst under training, you shall be on salary level 7L and shall receive an annual salary of 163.70. This amount includes boarding expenses.
Ghana Immigration Service Appointment Letter
The Official Release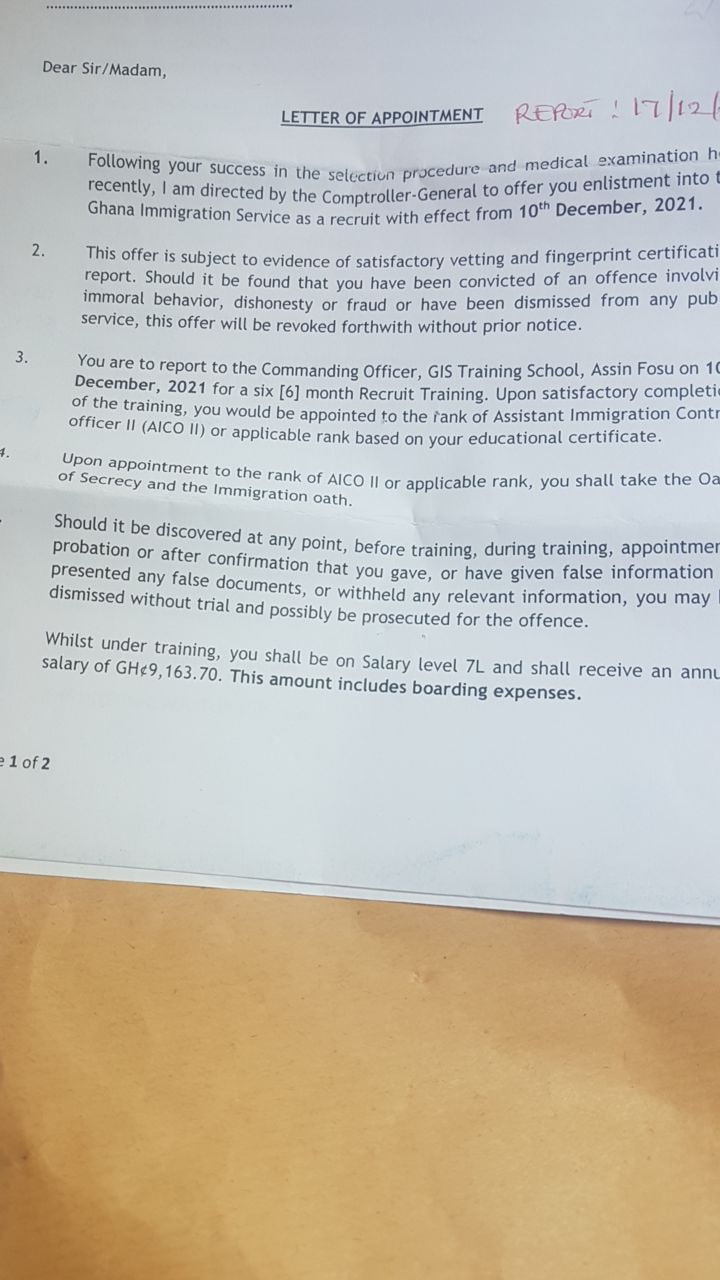 Ghana Immigration Service Appointment Letter 2021/2022/2023, Ghana Immigration Service Appointment Letters 2021/2022/2023
Immigration Appointment Letter 2021/2022/2023, Immigration Appointment Letters 2021/2022/2023
GIS Appointment Letter 2021/2022/2023, GIS Appointment Letters 2021/2022/2023