Our interaction with the IT section of the police recruitment portal concerning when applicants will receive text messages for screening revealed when and how applicants can access the Police Screening date and centers for the police recruitment process.
Kindly share with the Whatsapp button below this page. If you have any enquiries, let us know in the comment section.
You can join our Whatsapp Group For Government (Public Sector) Job Vacancies Alert. Here is the group: >>> Government Job Vacancies Alert Whatsapp Group  <<<
Recommended
Police Screening Date & Centers
Below is the response we received
YOU CAN CHECK THE STATUS OF YOUR APPLICATION WITH THE GHANA POLICE SERVICE RECRUITMENT PORTAL AT HTTPS://POLICE.GOV-GH-SERVICES AND CONTINUE TO MONITOR THE PORTAL, A CHIT WILL BE PLACED ON THE PORTAL CONTAINING YOUR SCREENING CENTER. YOU WILL HAVE TO PRINT IT OUT AND PRESENT IT WITH THE ORIGINALS AND PHOTOCOPIES OF YOUR DOCUMENTS- YOU WILL ALSO BE CONTACTED THROUGH SMS ON YOUR PHONE.
The Official Response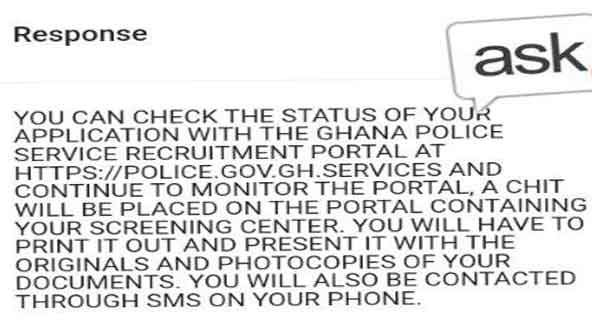 How To Check Ghana Police Screening Date & Centers
First visit the Ghana police Portal: HTTPS://POLICE.GOV-GH-SERVICES
Then enter your Phone Number you used during the application process
Afterwards click the "verify application Status" button.
Afterwards A Chit Will Be Placed On The Portal Containing Your Screening Date & Center.
You Will Have To Print It Out And Present It With The Originals And Photocopies Of Your Documents
Related Searches
Ghana Police Screening Date 2021/2022/2023/2024, Police Screening Date 2021/2022/2023/2024, Police Screening Centers 2021/2022/2023/2024, Ghana Police Screening Centers 2021/2022/2023/2024