A letter sighted by us indicates the release of Ghana Prisons Service Appointment Letter to applicants who were successful for the medical examination and who are scheduled for Training to finalize the GPS recruitment process.
The letter as sighted by Avenuegh.com is as follows.
Ghana Prisons Service Appointment Letter
Kindly share with the Whatsapp button below this page. If you have any enquiries, let us know in the comment section.
You can join our Whatsapp Group For Government (Public Sector) Job Vacancies Alert. Here is the group: >>> Government Job Vacancies Alert Whatsapp Group  <<<
Recommended
Offer Of An Appointment Into Ghana Prisons Service
I am happy to inform you that you successful in the selection exercise for the recruitment into the Ghana Prisons Service
You are hereby offered appointment Into the Ghana Prisons Service a recruit in-training With effect from December, 2021. The initial recruit training covers a period of nine (9) months during which you "'ill learn the rudiments of the Prison Officers' Work. You Will also be assessed for your suitability to be retained a Prison Officer.
During the period of training. you will be subjected to all the rules and regulations in force In the prisons Service. If at any time during the period of training, your ability, work and conduct are found to be unsatisfactory, you will be withdrawn from the Service. The Commandant of the Prison Officers Training School (POTS) Will issue the Training Instructions Which you will be expected to follow.
You will draw taxable training salary of GH0163.71 per annum (SSSS.71,). You Would be expected to make contributions of GHg20.OO per day from your salary towards your feeding during the period spent at POTS.
On successful completion Of your training, you will be put on one (I) year probation and posted to serve at any Prison Establishments in Ghana as the exigencies of the Service may require. You Will also start at the rank of SECOND CLASS OFFICER (2CO) unless otherwise specifically stated. Your subsequent confirmation and progression through the ranks in the Service Will depend On merit, good conduct, work and genera: self-improvement.
If it is detected at any time in your career that at the point of recruitment you presented false documents/information. certificates from an unaccredited Institution or have a criminal record, you will be summarily dismissed.
If you accept the above conditions, you should report to the Commandant of POTS' Accra, on 17th December, 2021 at 08.00 hours to commence training. You are to come with your acceptance letter. originals/and photocopies 01 your certificates, birth certificate and all the items stated in the attached prospectus.
Prisons Service Appointment Letter
The Official Release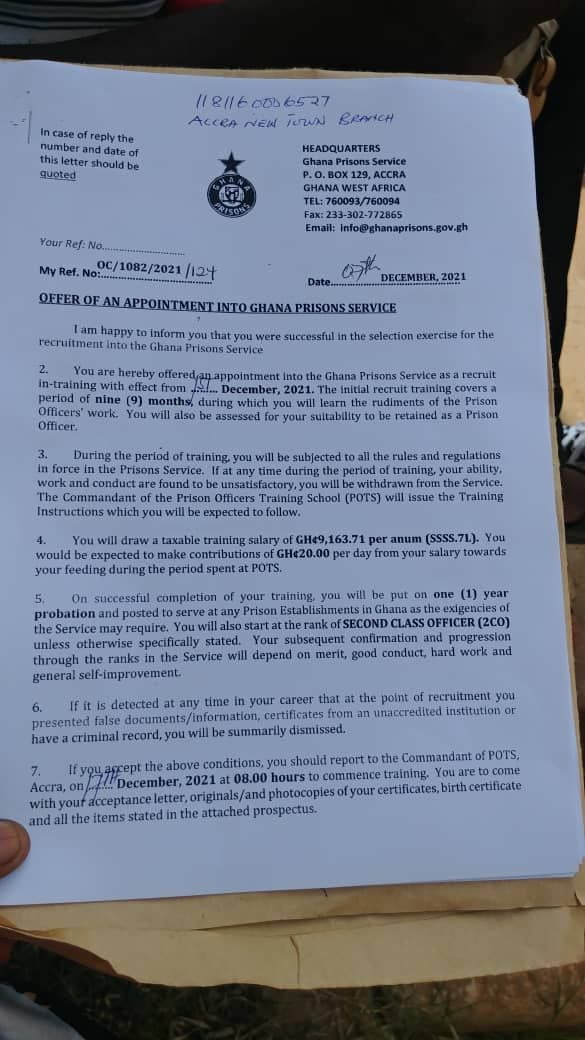 Ghana Prisons Service Appointment Letter 2021/2022/2023, Ghana Prisons Service Appointment Letters 2021/2022/2023
Prisons Service Appointment Letter 2021/2022/2023, Prisons Service Appointment Letters 2021/2022/2023
GPS Appointment Letter 2021/2022/2023, GPS Appointment Letters 2021/2022/2023