Entertainment
Government Direct Mobile Networks To Stop Deduction of 9% Service Tax
The government of Ghana has directed Mobile Networks and Internet Service Providers  to stop the upfront deduction of the communication service tax with immediate effect.
We earlier reported here:  " President Akufo-Addo To Cancel 9% Communications Service Tax ", that the president of the land was putting measures in place to halt the communication service tax. But could not provide the full details at the the time.
Well here is the full detail. In a letter released by the ministry of communication, dated 9th october 2019 and signed by the minister of communications, Mrs Ursula Owusu-Ekuful and addressed to the Director General, National Communications Authority, the CEO of MTN and Vodafone specifically highlighted the mode of the implementation of the communications service tax and requested that the upfront deduction of consumer's airtime to be halted with immediate effect.
Here Is The Letter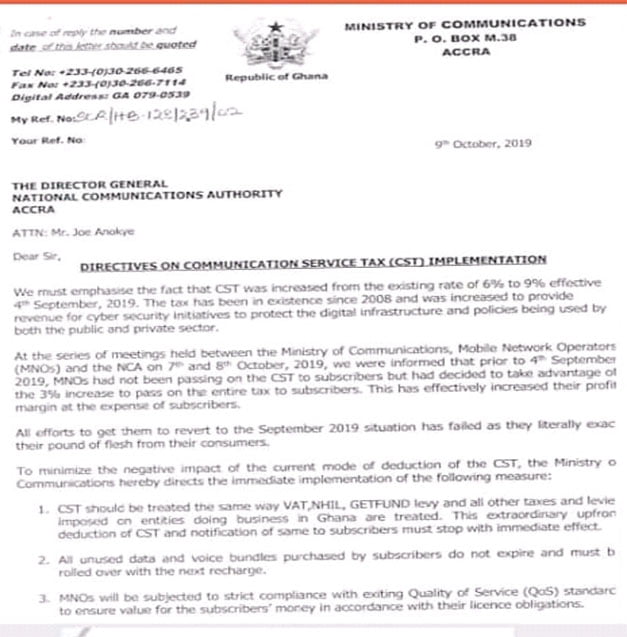 Read Also
Ghana Passport Application Procedures And All Details: Updated 2019/2020
Application Procedures and All there is to know about the various Ghana passport application methods. Read more
National Service Scheme Procedures And All Details 2019 / 2020

All details about the NSS procedures such as how to get an institution of choice. Read More.
GES Reopens Portal For SHS Recruitment – Application Procedures

GES Opens Portal Again For SHS Recruitment. Read More.

GES Aptitude Test 2019 / 2020 Full Details and Topic Areas
All you need to know about the GES recruitment aptitude test 2019 /2020.Read more
GES Posting of Teachers Returning from Study Leave 2019 Procedures

GES has officially releases postings for teachers returning from study Leave. Read More.
Technical University Graduates To Be Recruited By GES
In an interview with United Television in Accra on Friday,September 13,2019, the Director General of GES revealed … Read more