KNUST manages certain Ministry of health training institutions in Ghana and is responsible for the review of their curricula as well as setting and marking of exams for the award of various diplomas in Nursing.
KNUST has made recommendations to it's affiliate health training institutions on staffing, material supplies and facilities.
due to the outbreak of the novel coronavirus pandemic the university has reviewed it's examination protocols to make way for safety.
KNUST Examination TimeTable, Outline For Nurses, Midwives, Health Training Institutions
4th AUGUST – FIRST DAY
PAPER 1 – MORNING SESSION
CODE OF PAPER- 112 (PUBLIC HEALTH NURSING, MENTAL HEALTH NURSING, AND ABOUT 20 QUESTIONS FROM RESEARCH METHODS)
PAPER 2 – AFTERNOON SESSION
CODE OF PAPER – 116 (OBSTETRIC NURSING, PAEDIATRIC NURSING)
5TH AUGUST– SECOND DAY
PAPER 3 – MORNING SESSION
CODE OF PAPER – 114 (MEDICINE AND MEDICAL NURSING, SURGERY AND SURGICAL NURSING)
DUE TO COVID-19 SAFETY PROTOCOL MEASURES, From KNUST, Maximum hours to be spent at the Exams hall is supposed to be 2 HOURS especially in situations where all candidates are supposed to be in their nose masks.
In line with this, let us all take note that, PAPER 1, 2 and 3 all have a duration of 2 HOURS EACH, and 120 MULTIPLE CHOICE QUESTIONS EACH, FOR ALL PAPERS INSTEAD OF THE PREVIOUS 200 QUESTIONS FOR PAPER 3 in 3 HOURS.
KNUST Examination Time Table For General Nurses, Community Nurses And Midwifery Students.
Diploma Midwifery Students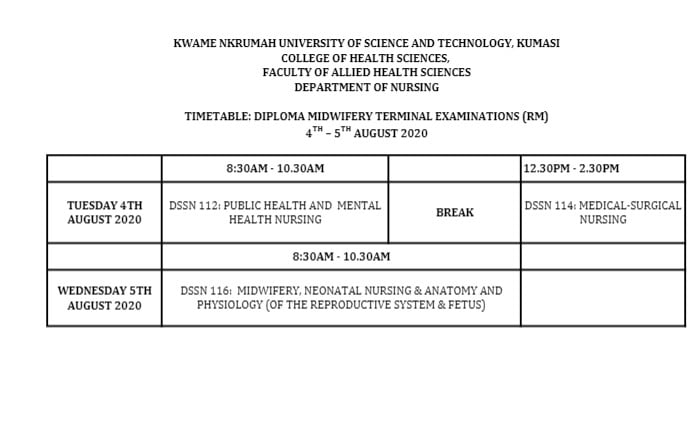 Diploma General Nurses