Registration for the third edition of the  National Teaching Council (NTC) licensure exams is officially extended. The September edition of the licensure exams which begun registration on 2nd September and the deadline for the registration categorically set for 14th september is now officially extended.
In an official statement dated 13th September and written by the public relations officer of the NTC Dennis Osei-Owusu, the NTC has announced extension of the 14th September deadline for the NTC licensure exams registration .
The Letter Reads:
The National Teaching Council (NTC) has taken cognizance of the challenges some candidates are encountering to register for the Ghana Teacher Licensure Examination (GTLE).

NTC therefore, in consultation with stakeholders, particularly PRINCOF and TTAG, extends the deadline of GTLE registration from 14th to 16th September , to enable candidates who have purchased the voucher already to register.
Here Is The Letter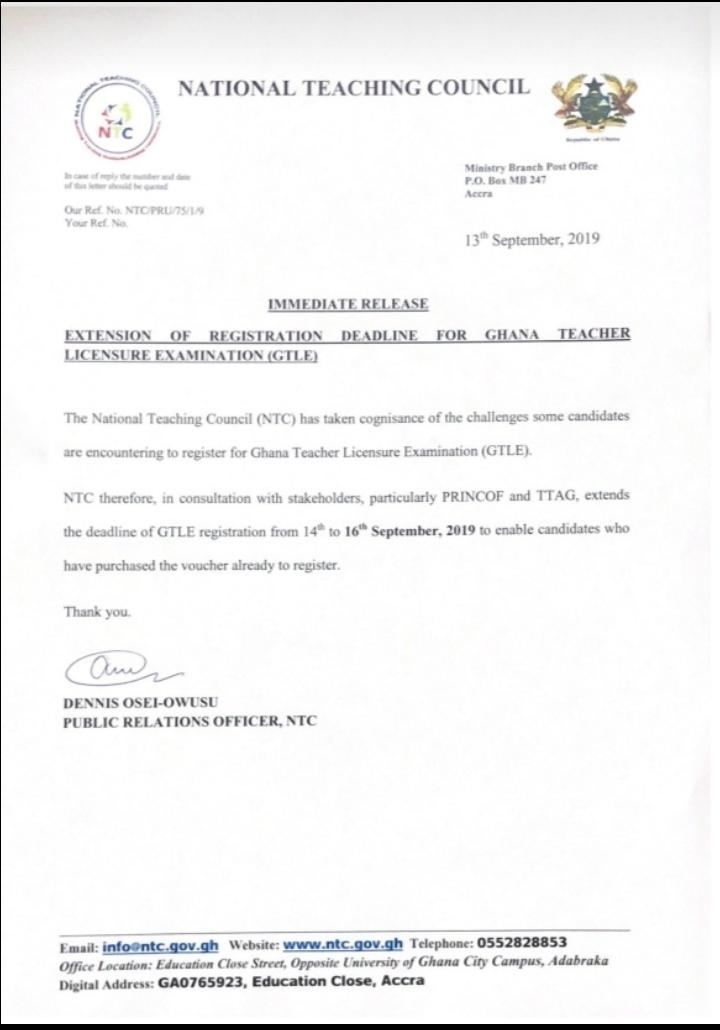 Registration for the third edition  of the NTC licensure exams is riddled with unprecedented challenges, left to be solely handled by the poor prospective teacher. After paying GHC 220, one would expect a smooth registration as the previous two editions but no. This years registration process is so heartaching  as numerous prospective teachers have lost a some of GHC 220 cedis for a registration they were unable to do. Read More Here: NTC Licensure Exams: Understanding The Source Of The Challenges.