Entertainment
NTC Licensure Exams Results 2019 To Be Released Last Week In November 2019
In a release in the College of Education weekly Journal dated 4th November 2019, the Executive Secretary of the national teaching council, Mr. Christian Addai Poku made it known among other details that the NTC Licensure Exams Results for candidates who took the exams on September 2019 would be released by the ending of November 2019.
The Release In The Journal States :
The national teaching council is working around the clock to release the results of the Ghana Teacher Licensure Examinations which was written in September 2019. They intend to achieve this by the last week in November 2019: this is according to the executive secretary of the national teaching council, Mr. Christian Addai Poku.
Graduates from all colleges of education in the country and some university graduates who studied education sat for the Ghana Teacher Licensure Examinations in September 2019.
Mr christian Addai- Poku told reporters from the college of Education Weekly Journal that, the initial decision had been that only those who passed the licensure examinations got posted for national service. However this is no longer the case.
He stated that:
" We met the parliamentary select committee on Education and we decided that posting for national service would be dependent on passing of the licensure examination.
He indicated that should one fail the examination, he/she will be allowed to resit while undergoing the National Service.
National Teaching Council will make a follow up to the successful candidates to help them build their portfolio so that they can be issued their license "
Portfolio building process involves gathering of artifacts as evidence of having been monitored during the national service period.
When reporters asked the Executive secretary about the concerns raised by some of the 2018 newly trained teachers that they have still not received their provisional licence certificates, he stated that "There are two categories with respect to such challenges.
The first, are those who wrote the examination in September 2019 and their provisional license has been sent to their various centers". According to him there are about 2000 candidates who have still not received theirs because their graduation list has not been confirmed by the university of cape coast.
We can only issue license when your institution has confirmed that you have passed pending graduation. Which implies that that you can pass the licensure exams but you will not be be issued a certificate unless you pass your institution examinations. "Some students have been to our offices with their college certificates but we still cannot give them the license certificates unless we get approval from their institution that they have passed their courses of study successfully.
Here Is The Official Release From The  Journal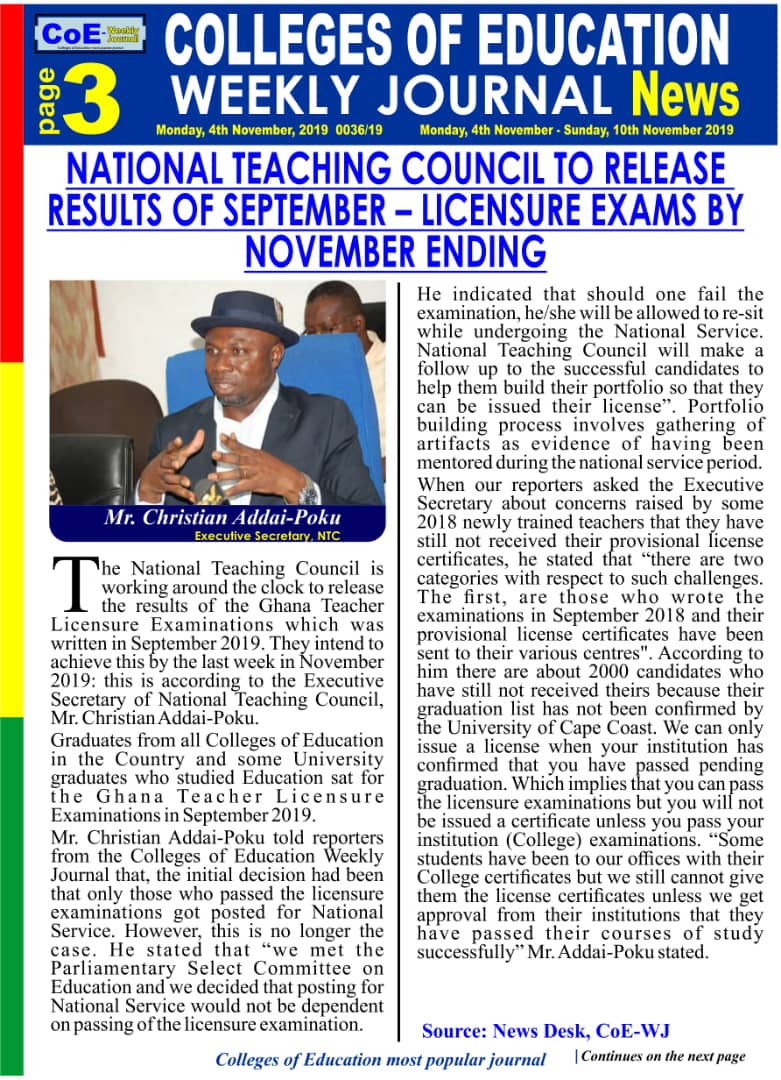 Read Also

National Teaching Council to roll out In-service Teacher Licence at GH¢200
National Teaching Council to roll out In-service Teacher Licence at GH¢200. Read More.
Ghana Passport Application Procedures And All Details: Updated 2019/2020

All in one passport application guide. Contains every detail about the the various Ghana passport application processes since its inception. Read More

GES Recruitment 2019/2020 New Application Procedures
Application procedures used for the initial recruitment. Read More.

GES Non Teaching Staff Recruitment Application Procedures 2019
GES Non Teaching Staff Application procedures. Read More.

Ghana National Service Scheme Procedures And All Details 2019 / 2020.
All in one detailed national service procedures guide. Read More.