Let your products and services reach over One Hundred Thousand (100, 000) people at once and see your sales and profit rise exponentially with the most affordable and effective advertisement offer ever.
Kindly check our offer below: If you have any further enquiries, we are open for discussion on our WhatsApp number +233558059161 .
Sample Advertisement
Your Product Image, Description and Contact Details would be designed into a flyer as shown in the images below and shared into our groups and displayed below all our posts on our jobs website.
Use the Next button to look through the sample images below. Your product will be displayed in a similar way.
If someone clicks on your product on our website, it will lead them to the product details. Click any of the images below to see a sample.
Advertisement On Our Website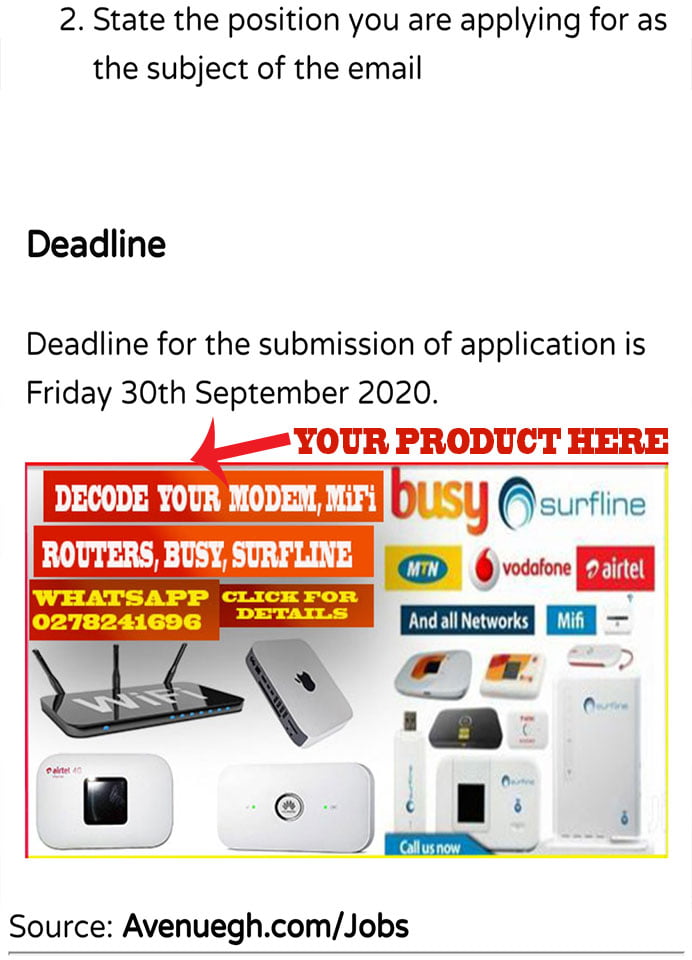 Breakdown Of Our Audience
GHC 40 for personal businesses.
Kindly make payment through MTN Mobile Money into Our  Business Account ( Account Number : +233558059161, Account Name: Aaron Tetteh ). Then send the transaction ID to the WhatsApp number +233558059161 to  begin.
Please Note that the number stated above is the only number that represents our business account. Please do not deal with or make payment to any other number.
An image or Flyer of your product as well as detailed text description of the product, contact details and every detail you determine will be posted in all our groups on your behalf at once or by yourself. Check Our Groups Here.
Your advertisement will also be posted on our website too for 24 hours.
You get a free Flyer / Poster of your product designed for you.
Your advertisement will be posted again in our groups the next day
Your advertisement will remain in our groups permanently
Contact Us And Lets Start Right Away
If you are yet to contact us, just send a single WhatsApp message containing the single word "Business", to our business number +233558059161 and a representative will get in touch with you right away