UK based Ghanaian musician Nana Richard Abiona, popularly known as Fuse ODG dazzled fans with his stage performance at the just ended AFCON 2019 Closing ceremony held at the Cairo International Sports Stadium on Saturday July 19, 2019 in Egypt.
Avenuegh.com earlier reported when he announced that he was billed for performance at the closing ceremony.
The Ghanaian musician performed beyond expectation as the whole crowd where thrilled with his songs.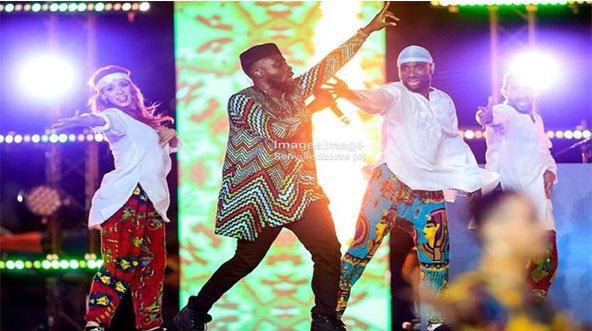 The ceremony lasted for just about 20 minutes. It was held at the Cairo International Sports Stadium on Saturday July 19, 2019 in Egypt, in the presence of over 65,000 spectators, amidst  lots of light and fireworks.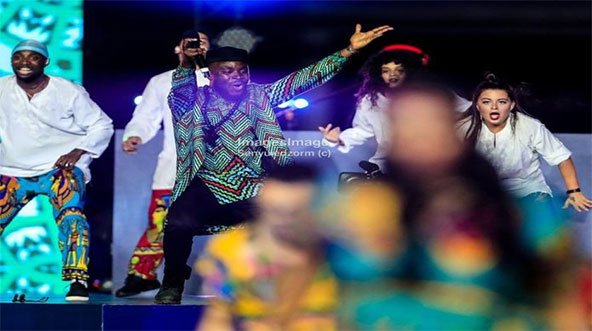 Fuse performed one of his hit songs "Boa Me"  that was recorded with British artist Ed Sheeran.
Fuse ODG's Achievements
Fuse has many achievements aside this. He has performed and collaborated with several international artist such as Ed Sheeran, Wyclef Jean and Damian Marley.
Right after his hit collaboration song "Azonto" which gave him international recorgnition, he released another hit single titled "Antenna," which featured American rapper Wyclef Jean and rose to the Top Ten of the U.K. Singles Chart. "Antenna" was at number 7 on the UK Singles Chart for a while.
He followed "Antenna" with "T.I.N.A" in 2014. Following "T.I.N.A" he released the single "Top of My Charts". Followed by "BomBae" in 2016 that featured Zack Knight and Badshah. Then followed by "Window Seat" and "Sunrise," in 2017 featuring Jillionaire and Fatman Scoop.
Fuse has worked extensively on U.K. artist Ed Sheeran's album that won a grammy. In the process, Fuse became the first Ghanaian artist ever to win a Grammy.
Just this year he released a single titled "Bra Fie", featuring Damian Marley. Then released his second album, "New Africa Nation.
He the first U.K.-based artist to be nominated for the Ghana Music Award.
Read also: Images Of Lady, Thomas Partey Smuggled Into Blackstars Camp in Egypt.