Entertainment
Wendy Shay Shares Life History With Mcbrown, Speaks German
On Sunday, July 21, 2019,  RuffTown Records signee Wendy Shay was hosted on Nana Ama Mcbrowns cooking show "McBrown's Kitchen"  . Wendy Shay shared her life history in the interview.
In the hour long interview and cooking session, Wendy shay revealed her entire life history on the show. She went on to reveal that she stayed in Germany and that she was once a nurse prior to coming to Ghana to pursue music.
During the interview that revealed her history, Wendy Shay prepared black buttered pepper rice.
Wendy Shay told McBrown that she resembles her mother (Wendy's ) . In response, Mcbrwon spoke Deutsche. Wendy responded and it turned into a conversation that only the two of them could understand.
Mcbrown didn't sound as fluent as shay but she did her best.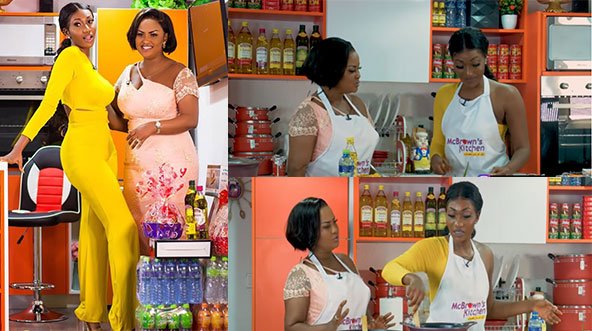 Excerpts from Wendy Shay's Life history Interview.
The show begun with Nana Ama Mcbrown welcoming Wendy Shay by asking the DJ to play one of her songs titled "p3 shw3". she went on to say:
Ladies and gentlemen lets welcome Wendy shay

New Artist VGMA 2019
Wendy Shay Introduced And Pleasantries
Wendy then walked in as they sung the sung together.

The conversation went on:

Nana Ama: wendy am sure turning around is your trademark

Wendy: Yes that is why i am endowed

Nana Ama: So what if you were not endowed what would you do

Wendy: Like i would have questions to ask God.

Nana Ama: Welcome to Mcbrown's Kitchen lets get to the fridge so that you begin
Wendy: Do you know you remind me of my mother? you really resemble my mother.

Nana Ama: Really, in what way?

Wendy: in every way.

Deutsche ensues between them. while Wendy sounded fluent, Mcbrown did not.
Nana Ama: Wow Wendy you look so pretty. You look way better in person than on camera.

Wendy: You too.

Nana Ama: So what are you cooking today

Wendy: I am cooking wild black butter peppered rice with curry kitchen source.
Wendy: Here are our ingredients,pineapple, unsalted butter tomatoes cucumber carrot onion green paper  chicken breast curry black pepper resin salt shrimp powder, basil leaves.

We start by cutting everything.
Are You Ghanaian And How Many Siblings Have You
Mcbrwon: So Wendy are you Ghanaian or German?

Wendy: I was born in Ghana but grew up in Germany. My mother moved us there at the age of thirteen.

We were all here in Ghana as one family but my father died. After his death, living became tough for us. So my mum had to leave Ghana in search of greener pastures.

When she left, i was two  years five years old while my younger sibling was 2 years old. We had to stay with our grandmother but we later went to stay with my aunt. She went to Germany to hustle and came to move us to Germany at the eight years later. I was 13 years the time i got there but am now 26 years. So i stayed there for 10 years.
Nana Ama: So how many are you in all.

Wendy: We are four sibling in all, two boys and two girls. I am the oldest.

Nana Ama: So where they.

Wendy: They are all in Germany. I and my younger sibling was born hear while the other two where born in Germany.
Where Did You School
Nana Ama: So where did you school when you were in Ghana.

Wendy: when i was in Ghana i schooled at Morning Star then I attended high school at Saint martins.

Nana Ama: So when you got to Germany where did you school.

Wendy: I continued schooling at 7th grade, so after high school there, I pursued nursing. I pursued nursing for three years. After which i worked as a midwife assistant.

Nana Ama: So can you give injections. Yes i had license to operate in Germany. But after coming to Ghana i am yet to give any injection.
About Your Music Career
Nana Ama: So when did you start music

Wendy: At the age of 14 years, my mother registered me in a music school in Germany. I attended the school for four years and graduated with a certificate.

Nana Ama: So what are your songs.

Wendy: I started with "Uber Driver" then produced "Bedroom Commando" Then I came to "Astealavista" then i produced "Psalm 35" then to "Stevie Wonder".
Nana Ama: So where did you stay in Germany?

Wendy: I stayed at the southern part of Germany around Munich.
Nana Ama: So how is music going in terms of acceptance from Ghanaians.

Wendy: By Gods grace I am doing well, Ghanaians have seen that i am doing my possible best and as such they have now accepted me. Ghanaians like hardworking people and as they have realized i am hardworking, they have begun finally accepted me.

Nana Ama: How about the comparison that was previously being made about you with Ebony.

Wendy: By God's grace it has all stopped. I am now fully accepted for who i am. I am now a God fearing person.

Nana Ama: So what about you twerking with Shatta Wale?

Wendy: That was just a music video as such i had to twerk to make it nice.
Read Also Wendy Shay Shares Stunning Images In A Nurse Uniform.