Here is the WASSCE 2022 Timetable PDF Download. This is to serve as a guide for the conduct of the WASSCE 2022 for all Senior High Schools (SHS) . This was made known by the WAEC HEADQARTERS, ACCRA, in a release by WAEC Here.
Kindly share with the Whatsapp button below your screen. If you have any enqiuiries, let us know in the comment section. You can join our Group For WASSCE And BECE Students For Enquiries and Updates. Here is the Group: >>> WASSCE Discussion Forum  <<
Related Posts
About WASSCE 2022 Timetable
The West African examination council (WAEC) has officially released the WASSCE 2022 Timetable for school candidates.
The WASSCE 2022 Timetable presented below shows the exams date & time each subject will be written as well as when the WASSCE 2022/2023 Starting.
The WASSCE 2022 Timetable is to serve as exams guidelines for the conduct of the WASSCE for all Senior High Schools (SHS) in Ghana
WASSCE 2022 Timetable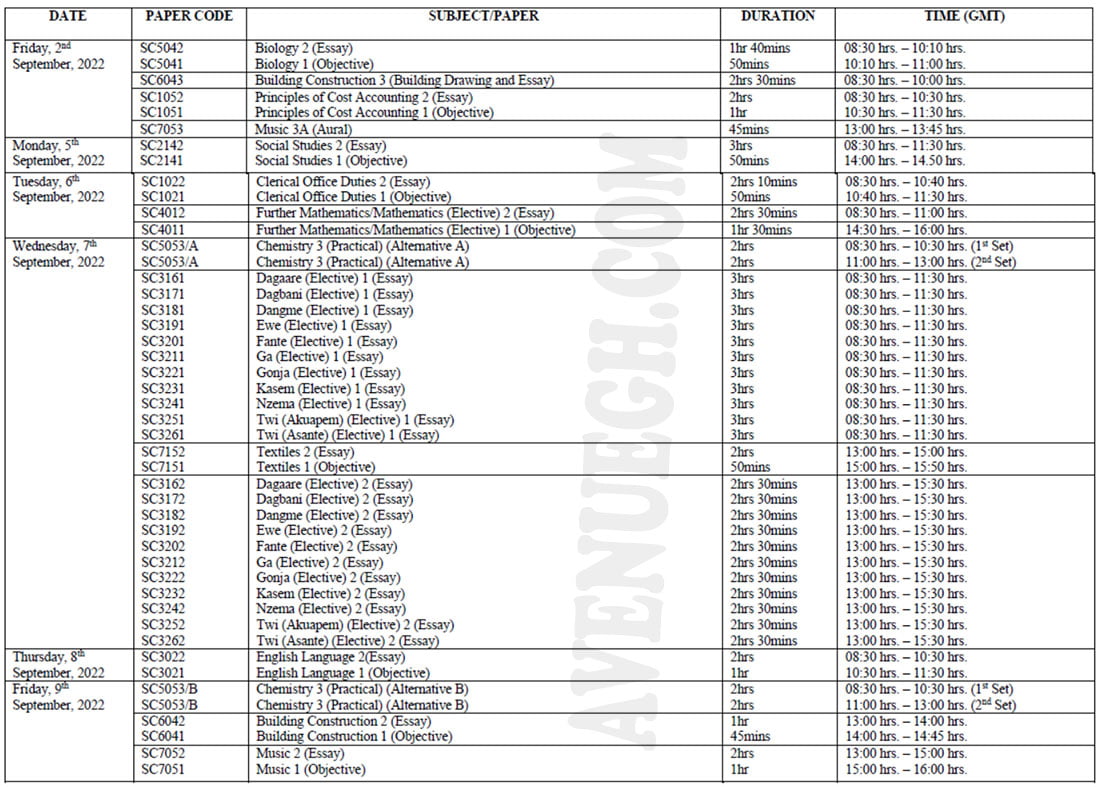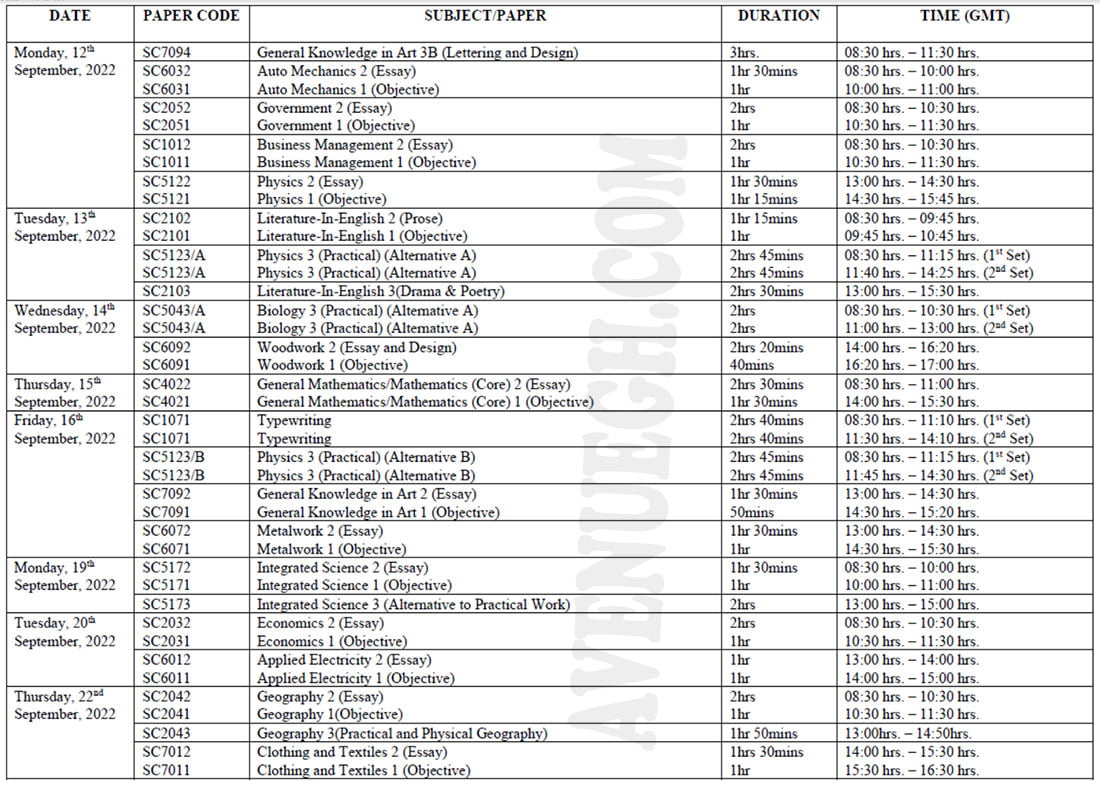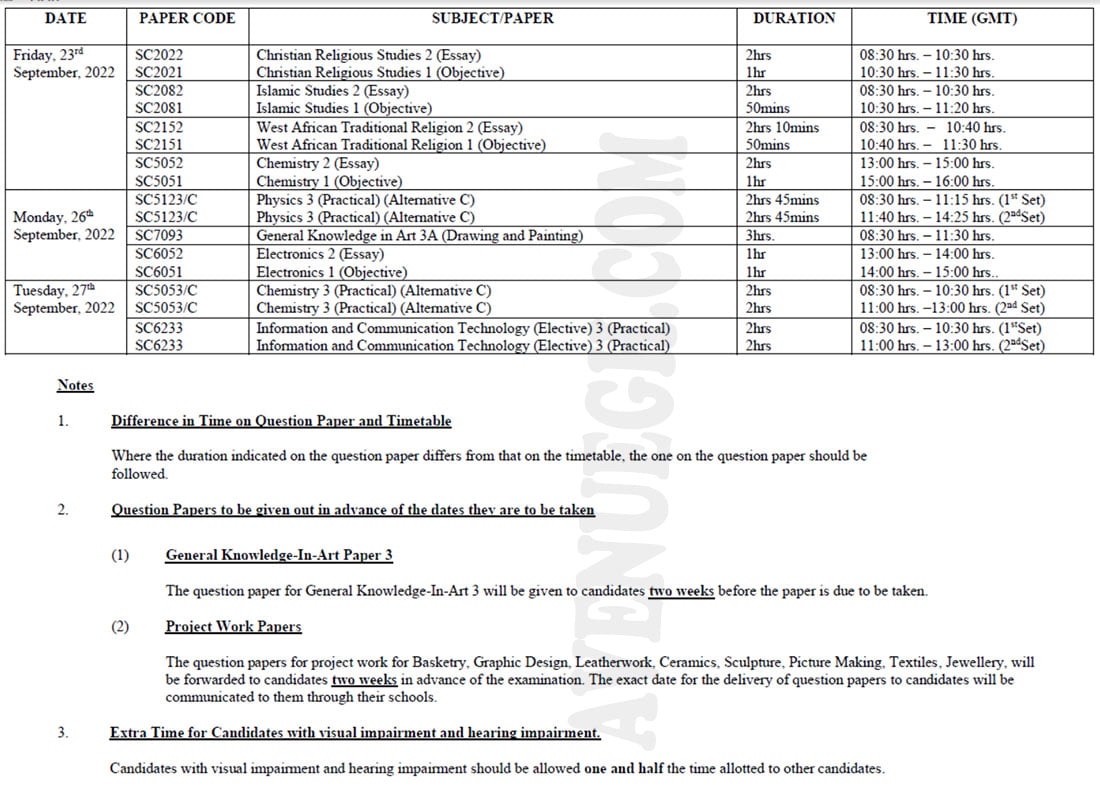 WASSCE 2022 Timetable PDF Download
WASSCE 2022 Timetable Guidelines
Instances where there are differences in time on each question paper and timetable where the duration indicated on the question paper differs from that on the timetable, the one on the question paper should be adhered to.
Some question papers will be given out in advance of the dates they are to be taken as follows:
General Knowledge-In-Art Paper 3: The question paper for General Knowledge-In-Art 3 will be given our to candidates two weeks before the paper is taken.
Project Work Papers: The question papers for project work for Basketry, Graphic Design, Leatherwork, Ceramics, Sculpture, Picture Making, Textiles and Jewelry will also be given out to candidates two weeks in advance of the examination.
However the exact date for the distribution of question papers to candidates will be communicated to them through respective schools.
When Is WASSCE 2022/2023 Starting
The WASSCE 2022 will start from Monday 1st August 2022 .
All the scheduled subjects will be written from Monday 1st August 2022 to Tuesday, 27th September 2022
Is WASSCE 2022 Timetable Out
Yes WASSCE 2022 Timetable is out
You can download or view it online through the instructions stated above
Related Searches
WASSCE 2022 Ghana, WASSCE Time Table 2022 Ghana, When Is WASSCE 2022/2023 Starting, WASSCE 2022/2023 Timetable Ghana, WAEC Time Table 2022 To 2023, Download New Waec Time Table 2022, WAEC Timetable 2022 For WASSCE Student, When Will WASSCE 2022 Start, When Will WASSCE 2023 Start
WASSCE 2022 Timetable, Private WASSCE Time Table 2022, WASSCE Time Table 2022 Ghana, WASSCE 2022 Timetable Pdf Download, WASSCE Timetable, WASSCE 2022 Timetable Ghana