Detailed in this article are all you need to do after the just ended national service, NSS registration and posting. These include changing your default password for security reasons, Checking your national service, NSS placement, Printing your national service, NSS appointment letter, Sending the appointment letter to your posted institution for endorsement, Scheduling appointment for regional validation and acceptance, Going to your regional office for biometric registration, Providing a means of payment, Printing and submitting monthly evaluation form, Printing and submitting yearly evaluation form and Request for your national service, NSS certificate.
Kindly Share This Article with all Prospective National Service Personnel. There Is A whatsapp share button below this article. If You Have Any Questions Or Need Any Assistance, Let Us Know In The Comments Section. 
Read Also
For a full guide on the entire National Service, NSS Procedures containing details about the entire Ghana National Service Scheme Procedures from registration, to earning your monthly allowance, to receiving your national service certificate, Check This Guide:
You can join our Telegram forum to make all your enquiries known. Here is the forum: >>> Job Vacancies Announcement And Teacher Discussion Forum  <<<. You can also Join Our Facebook forum through this link: NTC Licensure Exams And GES Recruitment Forum for further enquiries and assistance. The forum deals with all details and guidance about the National Service Procedures, National Teaching Council Licensure exams, Ghana Education Service teaching and non teaching staff recruitment. No enquiry goes unanswered in the forum.
1. Change Your NSS Dashboard Password
Login to your dashboard by logging into the national service portal , using your email address you used during the registration and the pin code you generated during the registration.
Click on the change password link at the left hand menu of the dashboard and enter a password you can remember.
2. Wait For Placement (Postings) To Be Released And Check National Service, NSS Postings
How To Check For National Service, NSS Placement After NSS Registration
To check your national service, NSS placement after registration you would have to wait till placements are out officially. It would be communicated through the national service website days after the end of the enrollment (Registration). You can still check regardless, but the response would be record not found. Here is how to check your National Service posting or placement
  Go to portal.nss.gov.gh and click on check posting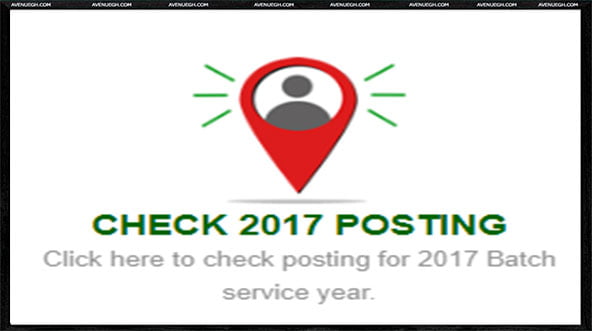 A page like the one below would appear. Then enter your national service number and your posting detail would be shown.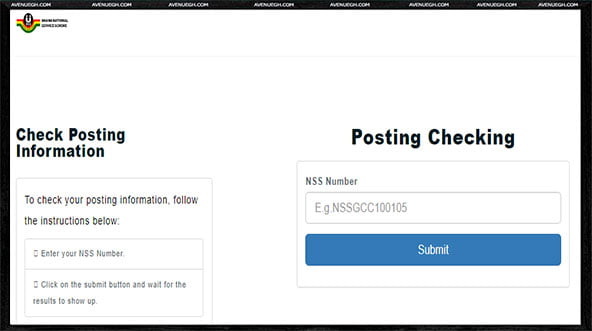 Your posting detail would look like the image below. There would be an option to print it or save it as a pdf. The details on this form are your national service, NSS number, name , institution attended, course of study, qualification, place of posting, year of enrollment, and remarks showing the status of your appointment.
If postings are not out you would see record not found. After postings are out, if you still see record not found, wait for a day or two, the postings / placement are updated in batches unto the national service, NSS portal. If you still see record not found after a day or two contact institution for assistance.
3. Print Your National Service, NSS Appointment Letter
Now you know the institution you are going to work with. You would have to print your appointment letter and send it to your institution for approval. The option to print the appointment letter is on the placement page detailed above How To Check For Placement As A Prospective NSS Personel.
4. Send The Appointment Letter To Your Posted Institution For Endorsement.
After printing the four page appointment letter, proceed to the institution you have been posted to with two copies, for endorsement by an appropriate person. This can be the head of institution. Note that the endorsement is to be done on the third page. Have a look at the appointment letter endorsement page here: Endorsement Page . It should be signed and stamped not just signed. The institution is to keep one and give you one.
5. Schedule Appointment For Regional Validation And Acceptance
After the endorsement, schedule an appointment for regional validation and acceptance on the national service, NSS website. Here is how: How To Schedule Appointment For NSS Validation. You are to print the appointment form and take it along to your national service, NSS regional office when the time comes. After booking appointment the page to print the scheduled appointment form would look like this Scheduled Appointment.
After a successful validation you would be given a different appoint appointment letter with the Regional Acceptance Number (RAN) on it. Three copies would be given to you at the validation center after validation. You are to take one back to the institution  that endorsed your first appointment letter. You are to keep one and send one to your national service, NSS district office.
6. Go To Regional Office For Biometric Registration
After validation comes biometric registration. You would have to go back to your regional office for this process. Your finger prints will be scanned and they will snap a picture of your face unto their system. This should have been combined with the validation process but is not.
7. Provide Means Of Payment
After the biometric registration and days into your service you would be required to login to your dashboard. There would be an option to enter your ezwitch card details.
8. Print, Endorse And Submit Monthly Evaluation Form
You would be required to print your evaluation form getting to the middle of every month and have it endorsed by your supervisor in your institution and submit it to the regional office before 15th of every month before you are paid.
9. Print, Endorse And Submit Yearly Evaluation Form
Getting to the end of the national service, you would be required to print a yearly evaluation form from your dashboard, submit it to your supervisor to be filled and stamped then send it to your regional national service, NSS office.
10. Request For Your National Service Certificate
You can then request for your certificate online after the national service and have it delivered to you.
Kindly Share To All NSS Personnel, There Is A Whatsapp And Facebook Share Buttons Below This Article.
Read Also