This article details how to check for placement (posting), how to print your appointment letter and how to book appointment for validation and biometric registration. The Management of the National Service Scheme (NSS) has released postings of Three Thousand and Sixteen (3016) nurses for the 2019/2020 service year to various health facilities in all the sixteen (16) regions across the country to undertake their mandatory one-year national service. In a release signed by the Executive Director of the Ghana National Service Hon Mustapha Ussif and dated 16th October 2019, the national service secretariat gave procedures for accessing postings and how to go about validation and and registration .
This recent release of postings is for the nursing colleges that completed their academic work and passed their Licensure Exams in march 2019 and the resit batch. These includes Registered Community nurses, Midwifery nurses, General nurses and Mental nurses who have been duly trained and successfully passed their Licensure Exams conducted by the Nursing and Midwifery Council.
Overview Of Procedures To Follow And What To Do Next
Visit the NSS website www.portal.nss.gov.gh
Click on check postings, and sign in to print a copy of the appointment letter.
Proceed to the user agency (health facility) for the endorsement of appointment letter by the human resource manager with official stamp.
After endorsement by the user agency, visit the NSS website to schedule an appointment indicating date and time for regional validation and acceptance.
National Service Personnel accepted by user agency and has booked appointment should      proceed to the NSS Regional Zonal Registration Centre for validation and registration to obtain Regional Acceptance Number (RAN).
After validation, print a new appointment letter which has the "RAN" and make three  photocopies. Submit a copy to the user agency and keep one.
Check National Service Placement For Nurses 2019 / 2020
  Go to portal.nss.gov.gh and click on check posting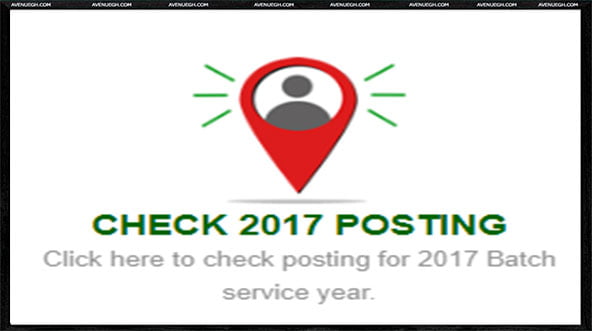 You would see a page like the one below. Just enter your national service number and your posting detail would be shown.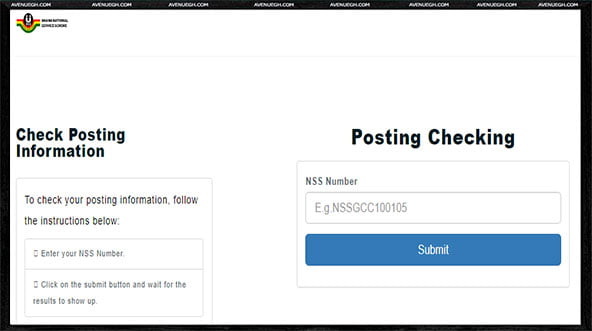 Your posting detail would look something like this. And there would be an option to print it or save it as a pdf. The details contain your national service number, name , institution attended, course of study, qualification, place of posting, year of enrollment, and remarks showing the status of your appointment.
If postings are not out you would see record not found. After postings are out, if you still see record not found, wait for a day or two, it will be added by then. If you still see record not found after a day or two contact your head of department in your school to resolve it.
How To Print Your Appointment Letter And  What To Do Next
Now that you know the health facility that you are going to work with. You would have to print your appointment letter and send it to the health facility for approval. The option to print the appointment letter would be in the placement page. The question now is what next after knowing your placement. Here is what to do.
After printing the four page appointment letter, proceed to the health facility you have been posted to. With two copies, for endorsement by an appropriate person. This could be the head of institution or head of human resource. Note that the endorsement is to be done on the third page that looks like this. It should be signed and stamped not just signed. They are to keep one and give you one.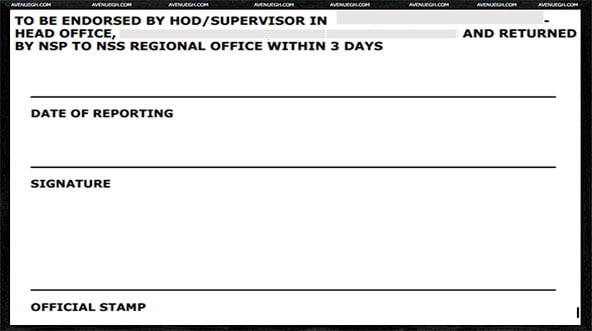 After the endorsement, schedule an appointment for regional validation and acceptance on the national service website. Here is how: How To Schedule Appointment For NSS Validation. You are to print the appointment form and take it along to your national service regional office when the time arrives. After booking appointment the page to print the scheduled appointment form would look like this.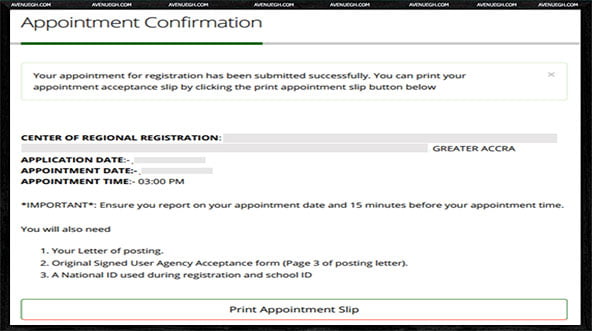 When the appointment date arrives go there as early as possible. Forget your time slot. It is a first come first served queue, there would be a lot of people there and if the closing time reaches you would have to go and come the next day, no matter where you are from. You are to go there with the endorsed appointment letter and an id card. Note that when your printed appointment letter does not contain the barcode, it is not valid. The barcode would be scanned at the validation center to authenticate it.
 After a successful validation you would be given a different appoint appointment letter with the Regional Acceptance Number (RAN) on it. Three copies would be given to you at the validation center after validation. You are to take one back to the institution  that endorsed your first appointment letter, thus where you are going to work. You are to keep one and send one to your national service district office. But upon reaching the national service district office you might be told they are not collecting appointment letters so keep it.
 After validation there comes biometric registration. You would have to go back to your regional office for this process. Your finger prints will be scanned and they will snap your face unto their system. Ideally this should have been combined with the validation process. But this is Ghana. This would lead to a lot of chaos and protocol registrations, you could be in a queue for over eight hours and still not be attended to. You would have to go home and come the next day. The purpose of the booking was to avoid this but it still happens. Best thing to do is go there before seven o'clock or forget it. People go there earlier than that. Another thing you can do is to relax, this process would go on for weeks. You can wait when the congestion comes down then you go.
  After the biometric registration and days into your service you would be required to login to your dashboard. There would be an option to enter your ezwitch card details. When the time is due it would be communicated to you through their website or the appropriate platforms.
You would be required to print your evaluation form getting to the middle of every month and have it endorsed by your supervisor in your institution and submit it before 15th of every month before you are paid. Good Luck On Your Service To The Nation.
Schedule Appointment For National Service Validation For Nurses
 Go to portal.nss.gov.gh , at the right top corner click or  hover over the sign in button and click sign in as personnel. Or just go to portal.nss.gov.gh/sign-in.

 You would have to enter the email you used for the online registration as username, your default password is your pincode. If you have forgotten your pincode, check the sms you received when you made payment or the registration form you printed. If you have still forgotten it, go to portal.nss.gov.gh/check-pin enter your nss number and click check pin.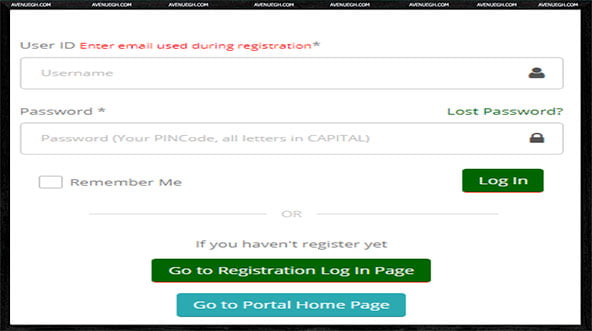 After you have logged in as a personnel you would see your dashboard. Click on "BOOK APPOINTMENT" to book appointment  for regional validation and acceptance.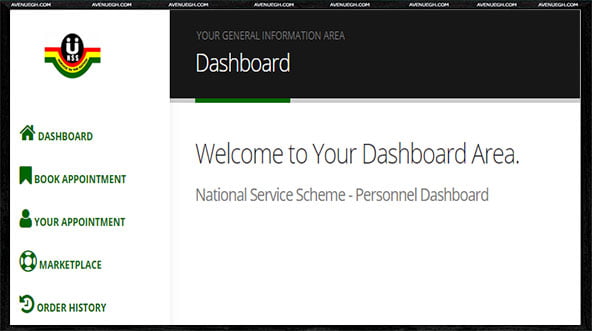 Booking appointment is three simple steps.

Start by selecting your preferred appointment date, then click "find available slot" button below
then select a a preferred time slot in the time slot available for your chosen date
and then click "schedule appointment" button to complete your booking.
To view your appointment details anytime just login and click on the "YOUR APPOINTMENT" menu on the left side of the page. At this point you have successfully booked appointment. You are to print the appointment form and take it along to your national service regional office when the time arrives.
If you miss the exact appointment time don't panic. After booking appointment the page to print the scheduled appointment form would look like this.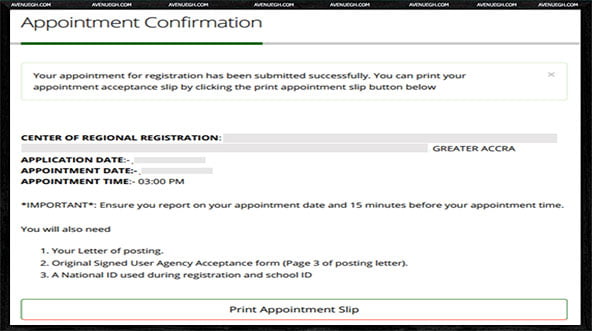 Read Also

Ghana National Service Scheme Procedures And All Details 2019 / 2020.
All in one detailed national service procedures guide. Read More.
Posting To Preferred Institution For National Service Without Paying

You can be posted to your institution of choice for free. Here is how.Read More
Online Ghana National Service Registration Guide

All you need for a successful national service registration. Including how to register when your ID is rejected.Read More
National Service Certificate Request Procedures 2019/2020

How to get your national service certificate delivered to you and how to get a PDF copy of it  before it arrives.Read More
Ghana Passport Application Procedures And All Details: Updated 2019/2020

All in one passport application guide. Contains every detail about the the various Ghana passport application processes since its inception. Read More