When applying for a Ghana passport online, the first thing that comes to the mind of an applicant is; which application voucher should I purchase, what are the difference between the regular and expedited application, how long would each mode of the application take and what are the do's and don'ts of the passport application process.  All the answers are here.
Although there are some guidelines on the passport application website. They are not good enough. Here are things to note when applying for a Ghanaian passport form experience.
Read also
Ghana Passport Application Procedures And All Details: Updated 2019/2020

All in one passport application guide. Contains every detail about the the various Ghana passport application processes since its inception. Read More
Applying For Ghana Passport Online
The application process is simple. You first apply online during which you book an appointment and print your application details and appointment slip. The second step is to go for passport vetting and biometric registration on the booked date. You are done. You just wait till the application is ready.
If you are yet to apply for a passport check this How To Apply For Ghanaian Passport In An Hour for a step-by-step guide to apply.
Which Passport Type Should You Apply (Regular or Expedited) And How Long It Really Takes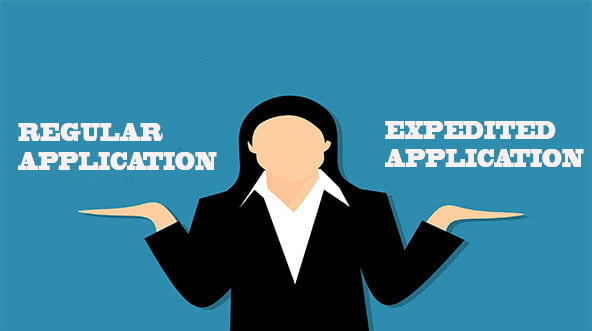 Note that the cost of the application voucher is 50 cedis for regular and 100 cedis for expedited (express) application. The difference is that, the express application would be processed faster. On their website it states that it takes up to three months for regular and a up to month for express but that is not the case. From experience, express takes up to four months unless you are ready to grease the right alms. The regular application can take up to six months. Good thing is express would still be received earlier than regular.
Yes there are people who claim to receive theirs on time without any hassle but that is very rear. Reality on the ground is up to four months for express application and up to six months for regular application.
In other not to waste time going there every now and then, specially if you are from far. Just keep the number you used for registration(the one you use to login) active when it is ready you would receive a message. Only if your number is always on. You should also check if it is ready only when you have something else to do in Accra. It can be very frustrating that after months of waiting, you board car purposely to go for your passport, you sit for hours in the queue and you are told it is not ready.
Things To Note When Applying For Ghana Passport Online
Note that you don't have to necessarily have an account with the listed banks to buy the voucher. They just receive your payment.
Note that you would need the name, occupation and residential details of two guarantors.
Note that you would need complete details of a clergyman (reverend/senior pastor) or head of an institution to be your witness. You need details including name, occupation, residential and ID card details of the witness.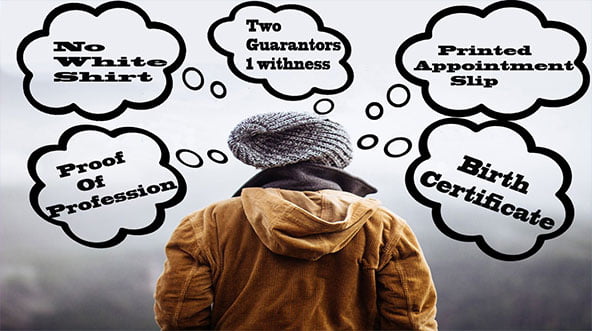 Things To Note When Going For Passport Vetting And Biometric Registration
Note that the barcode on the first page of the vetting appointment slip must be there else the form is not valid. It is recommended you use chrome browser for the application. If you use a browser that does not display the barcode on the slip when printing, your form will be rejected when you send it for the vetting and biometric registration.
Note that you are not to wear white shirt to the passport application center for the biometric registration. The picture to be taken has a white background so wearing a white shirt will interfere with the quality of the picture.
Note that when the appointment date for the biometric registration and subsequent vetting or inspection of document arrives, the time to go there does not necessarily have to be the time you booked. So far as it is the same day if you go there within the working hours, you will be attended to. It is advisable to go there as early as possible. There is going to be a long first-come-first-served queue even before the working hours begins so go there early. If you go late and it is time to close you would have to go and come the next day and join a different queue.
The documents you need for Ghana passport online
The documents you need for the biometric registration and subsequent vetting or inspection of document are the following.
The printed appointment slip
Birth Certificate (Proof of Ghanaian citizenship)
An ID card (drivers license, voters id, national id), not health insurance id
Proof of profession: thus an introductory letter from employer, a student id if you are a student, business registration certificate if you own your own registered business. You don't need a proof of profession if you are unemployed or in the non-formal sector such as hair dressers, mechanics and market women.
Note that your birth certificate must be the recent one. The ones issued from somewhere 2015 onwards. Not the old ones. Don't worry if you don't have this. Just contact the registrar of births and deaths at your hospital of birth, better still you can get one from your nearest health center if you can convince them. Just note that your place of birth from that time onwards must be that health center.
The following are the passport application centers across the country.
Note that currently only the Accra passport application center at the Kinbu Road (Old Foreign Affairs) around the Tema Station In Accra does the biometric registration and processes all online applicants. However you can make enquiries from these centers.
| | LOCATION | ADDRESS |
| --- | --- | --- |
| 1 | RIDGE PAC | Ridge |
| 2 | ACCRA PAC | Kinbu Road (Old Foreign Affairs) |
| 3 | TEMA PAC | Former IRS Office, Community 4, Tema |
| 4 | ACCRA PREMIUM PAC | Accra Digital Center, Adjacent State Housing Company, Ring Road West, Accra |
| 5 | KUMASI PAC | Ministries Adum behind the Court of Appeal PWD (National Service Secretariat) |
| 6 | TAKORADI PAC | Ghana Immigration Head Quarters (Within the Regional Administration) |
| 7 | SUNYANI PAC | Adjacent to Jubilee (shares a wall with the Park) |
| 8 | HO PAC | Regional Administration (Shares building with Immigration) |
| 9 | TAMALE PAC | Police Park (Old Library) |
| 10 | KOFORIDUA PAC | PWD Office, SSNIT Office Area, Koforidua. |
Validity of The Passport After Applying For Ghana Passport online
It is good to know that applications made after thirty first March 2019 would be valid for ten years instead of the five years. Thus all applications made before 31 March 2019 would be valid for the usual five years. Hopefully, this would ease congestion at the Accra Application Center and speed up the application process, so as to receive the passport on the stipulated time thus a month for expedited and three months for regular. We hope for the best.
To renew your passport you need the old passport and proof o profession. Also, to replace a missing passport, you need police report, affidavit, ID card, birth certificate. For applicants below 18 years you need birth certificate, parent or guardian's ID card.
Conclusion
At this point you might have taken note of the do's and don'ts of the passport application process in order not to get frustrated at the Passport Application Center (PAC) when going for the vetting and biometric registration.
To track appilcation progress read our previous article How To Print Passport Appointment Slip And Track Application Progress  if you want to track the various stages your passport is going through to know when you will receive it.
Read also
Ghana Passport Application Procedures And All Details: Updated 2020 /2021

All in one passport application guide. Contains every detail about the the various Ghana passport application processes since its inception. Read More
Apply For Ghanaian passport In An Hour

Easiest and Quickest online Ghana passport application. Read More