Resit registration for the NTC Teacher Licensure Exams is officially opened. Here is a step-by-step guide to register to Resit the NTC Teacher licensure exams. It contains everything you need for a successful exams.
The National Teaching Council (NTC) has opened the portals for the resit examination registration Starting today. Note that there will be no extension  of the registration date beyond 14th September.
After the registration, the exam will be written on 25th – 27th March. Three exams papers will be written within the stipulated three days, namely Professional skills, Literacy and Numeracy.
Venue for the exams will be colleges of education across the country or WAEC centers across the country.
You can join our Telegram Group  >>> NTC Licensure Exams And Teacher Discussion Forum<< to receive updates about changes in exams dates, venues for the exams,  reading materials, past questions, sample questions and potential exam questions. Our telegram group currently has several members. You can also join our Facebook forum to make all your enquiries known. No question in our forum goes unanswered. Here is the forum: NTC Licensure Exams And GES Recruitment Forum.
Recommended
How to Register To Resit The NTC Teacher Licensure Exams
The first step is to go to the banks authorized by the National Teaching Council (NTC) to buy the resit registration voucher from them. Specifically GCB bank. Just go there request for National Teaching Council (NTC) licensure exams resit voucher.
Fees For The Resit NTC Licensure Exams Registration:
Candidates who are re-sitting are to pay GHȻ100.00 for one (1) Re-sit paper.
Candidates who are re-sitting all two (2) papers are to pay GHȻ200.00.
Candidates who are re-sitting all three (3) papers are to pay GHȻ 220.00
Detailed Procedures For The Resit NTC Licensure Exams Registration:
Upon payment at the bank, they would require for your name, your index number from the institution you attended ( college or university) and ID card . A voucher payment receipt would be printed for you. This contains details including your Serial Number and PIN with which you would use to register for the exam. Then proceed to register for the NTC Ghana Teacher Licensure exams.
To start the registration go to exams.gov.gh and click on "Resit Registration" 

button.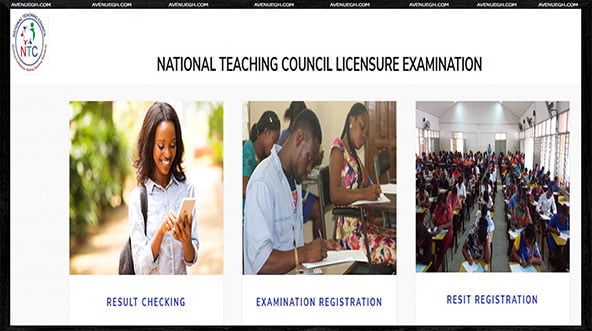 Then enter your previous "Examination ID" (The one you used to register and write the first exams), Confirm your "Examination ID". Then enter your  Serial Number and PIN on the voucher payment receipt given to you at the bank to login.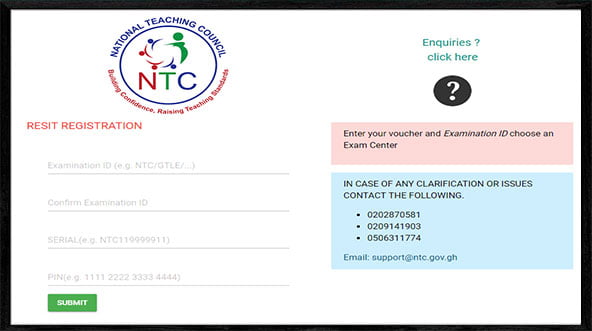 After loging in, you would be required to choose exams center.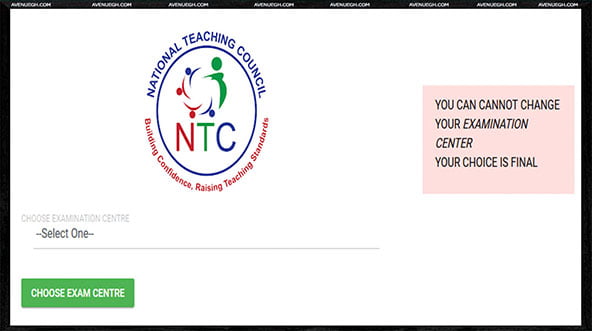 Note that this is the region in which you would write the exam. You cannot change it if you should mistakenly choose and submit this page. As of the 2019 year batch every region has a designated centers. This would be communicated accross through sms and social media handle of the NTC.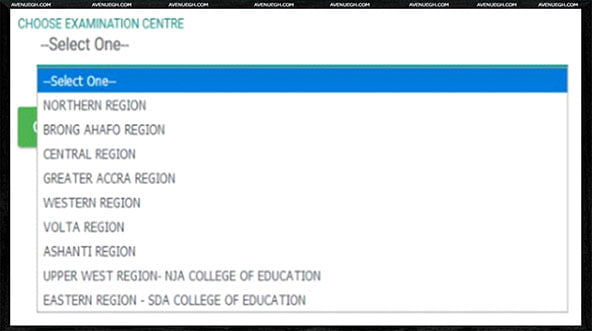 After choosing a region, The registration portal opens. On this page you enter your personal details such as Name, Contact, Address, Qualification, school name, program of study, class obtained and upload your profile picture. Then click submit
After submitting the form, a print out page containing your exam details and a provisional time table would show. Remember to print the page. You would take this to the exam center during the exam.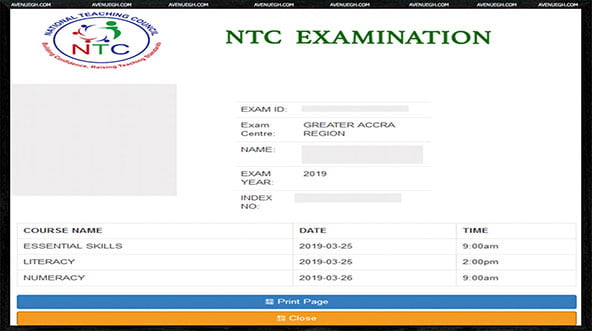 Conclusion
Read Also