The Ghana National Service Scheme (NSS) has  officially released PIN codes and guidelines for the National Service Registration for Colleges of Education Trainees for the  2019 /2020 service year, today 8th November 2019. Here is How To Access and Activate NSS Pin Codes. The official statement reads:
The Management of Ghana National Service Scheme (GNSS) has released a total of Fifteen Thousand Four Hundred and One (15,401) Personal Identification Number (PIN) codes for the enrollment of newly Trained Teachers from all the accredited Colleges of Education in the country to begin with their mandatory National Service for 2019/2020 Service year.

All prospective National Service personnel are hereby requested to visit the scheme's website www.nss.gov.gh to access their PIN Codes with their respective Index Number and Date of Birth and proceed to any branch of ADB Bank Ltd. throughout the country to make payment of an amount of GHC 40.00 or GHC 41.00 using MTN Mobile Money to activate the enrollment process.

Management urges all prospective National Service Personnel to ensure that they complete their enrollment process on or before Friday the 22nd of November, 2019.
Here is how to access and activate your NSS pincodes.
You can Join Our Facebook forum through this link: NTC Licensure Exams And GES Recruitment Forum for further enquiries and assistance. The forum deals with all details and guidance about the National Service Procedures, National Teaching Council Licensure exams, Ghana Education Service teaching and non teaching staff recruitment. No enquiry goes unanswered in the forum.
How To Access and Activate NSS Pin Codes
 To start the NSS registration, you would need to generate your national service pin code and make payment on the national service portal for it to be activated. To do that go to portal.nss.gov.gh/check-pin. Or go to portal.nss.gov.gh and click on the "Check And Pay For Pincode" Button.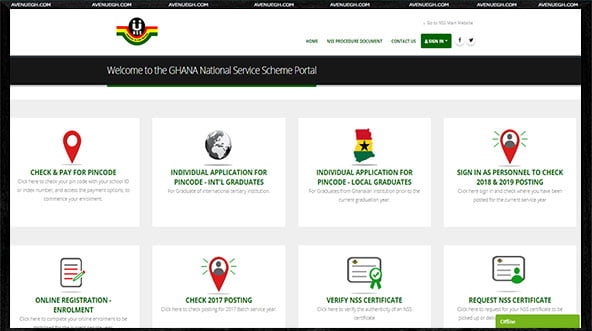 Enter your index number and and your date of birth in the provided fields and click the "

Search

" button to generate your pin.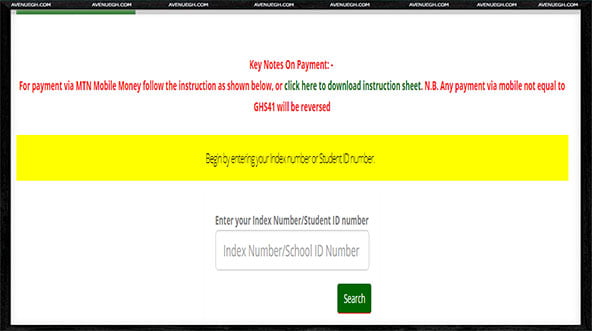 Your pin code summary page would show up, Containing your pin code and your personal details.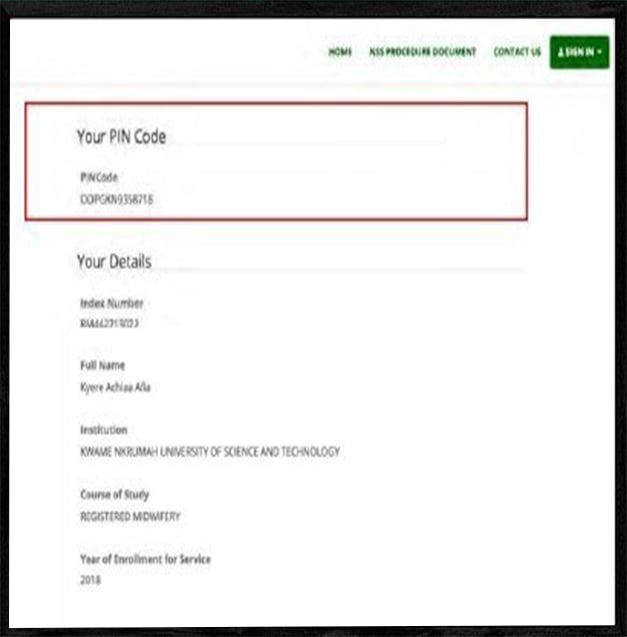 Afterwards, Write down the pin code that is generated, as you would use it to make payment before entering the registration page. The number might be something like this GMYGCW793418. There would be an option to choose payment option, where you would have to select the network you are on eg MTN, afterwards enter your number that is registered on mobile money. The Mobile Money payment might look like below: a screen like this would pop up on your phone for you to confirm payment:
Just enter your mobile money pin to pay. It was 41 cedis as of the 2018/2019 academic year. You would see a payment confirmation and receive SMS confirming payment.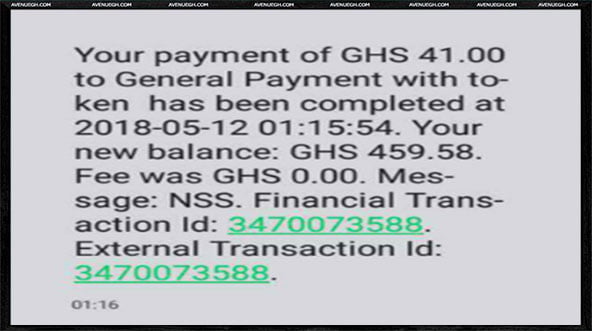 Your pin code is now activated for registration.
There are two other options by which you can activate your pin code after checking it, the first option is to proceed to any branch of ADB Bank Ltd. throughout the country to make payment of an amount of GHC 40.00 or GHC 41.00 to activate your pin code. The second option is using MTN Mobile Money to activate your pin code, follow this guide to activate your pin code on mobile money: How To Pay for NSS Pincode On MTN
Conclusion
For a complete guide on the entire national service procedures, from registration, to earning your monthly allowance, to receiving your national service certificate. Check the most concise guide you will ever find anywhere, below.
Ghana National Service Scheme Procedures And All Details 2019 / 2020

All you guides and procedures on the entire national service.Read More
Detailed topics covered in the article include: The Online National Service Registration Procedures 2019 / 2020, How To check and Pay for National Service Pin Code, Things To Note When Filling The National Service Enrollment Form, How To Do The Ghana National Service Online Registration If Your ID Is Rejected On The Enrollment Page, Posting To Preferred Institution For National Service Without Paying A Dime, How to Check For National Service Placement After Registration,  How To Print Your Appointment Letter And  What To Do Next,  How to schedule Appointment For National Service Validation After Registration And Placement, The National Service Validation and Biometric Registration, Things To Note About the Validation process and Biometric Registration and how to request for your national service certificate online and have it delivered to you.
Read Also
Posting To Preferred Institution For National Service Without Paying

You can be posted to your institution of choice for free. Here is how.Read More
Online Ghana National Service Registration Guide

All you need for a successful national service registration. Including how to register when your ID is rejected.Read More
National Service Certificate Request Procedures 2019/2020

How to get your national service certificate delivered to you and how to get a PDF copy of it  before it arrives.Read More
Ghana Passport Application Procedures And All Details: Updated 2019/2020

All in one passport application guide. Contains every detail about the the various Ghana passport application processes since its inception. Read More